Since my initial Ezoic Review got quite a lot of traction, I have gotten a lot of questions from my readers in regards to the requirements of joining Ezoic. In this post, I will tell you everything you need to know about Ezoic Requirements and what you need to get started using Ezoic.
If you are still in doubt about joining Ezoic, I highly recommend reading my Ezoic Review, where I go in-depth into all the possible questions you might have about Ezoic. You also get fully transparent insights into the revenue of this very blog and how it has changed since I made the switch over to Ezoic.
Ezoic is an Officially Google Certified Publishing partner and has helped me to create enough revenue to quit my job and become a full-time blogger and content creator. I have more than 3 years of experience working with them – both as a publisher and as an affiliate.
As readers of my blog know, I only endorse things I sincerely believe in – Ezoic is one of them, read more to find out why.
ℹ️ This Guide has related Articles!
👉 Ezoic Review – How Ezoic helped me to go Full-Time Blogger
👉 Ezoic Requirements & How to increase website earnings
👉 Ezoic Earnings – My Complete 4-Year Revenue with Ezoic
👉 Ezoic Leap Review – The Best Page Speed Tool Available Today
👉 Disable Ezoic Ad Placeholder by CSS Tag (The Easy Way)
Table of Contents
Question 1 – How many page views do I need to join Ezoic?
This is probably the most popular question for a lot of you – so we dive into it head-first, leaving no questions open.
When I joined Ezoic back in 2019, the requirements to join Ezoic were to have at least 50.000 pageviews a month. That is, quite frankly, a lot of page views for most of us. But since Ezoic got more popular in the course of the last couple of years, they changed this requirement.
As of writing this article, Ezoic has removed the page view restrictions for joining them – that is good news for smaller publishers, but there is a caveat.
Monetization features are available to all sites, but sites with less than 10.000 page views per month must join Ezoic through their special Access Now program, which is a program tailored for smaller sites.
That being said, if your blog has more than 10.000 page views a month, you can directly join Ezoic without any restrictions and you can fully access their monetization features.
However, there is another way to get access to monetization faster as a small publisher – by joining through an affiliate publisher like myself. If you use my link to join Ezoic, you will be granted a white-glove service with your onboarding, and the chances of being accepted for monetization increase.
To summarize these Ezoic Requirements for joining them:
10.000 Page Views a Month -> Direct Access to Monetization
Less than 10.000 Page Views a month -> Possibility to join their Access Now program
Question 2 – Will my Content work with Ezoic?
This is a question I get a lot – people asking me if their content will even be worth monetizing. At first, this does not sound like it would be relevant as an Ezoic Requirement for joining – but it is.
Since Ezoic is an Officially Google Certified Publishing Partner, you need to adhere to Google's Ad Policy guidelines. I recommend you read through those guidelines. Some of them are:
All content must be original and unique.
All your traffic must be identifiable, coming from humans (not bots), and without violating their common policies.
If your site is using Google Adsense, it must be in good standing with Google.
2. 1 – As for if your Content will work with Ezoic
The short answer is – yes. Almost all kinds of content work with Ezoic. Take this very blog for instance. I mainly create Cyber Security, Linux, and Open Source tutorials – which is a major niche topic that is not well paid when it comes to advertisement.
Yet, that did not stop me from becoming a full-time blogger with the little traffic I generate (currently around 40-50k page views a month).
If you take a look at the best-paying niches for Ad revenue, you might find your own niche within them. As long as your content finds readers, and is not controversial, you'll make money off of it.
There are actually the two only Ezoic Requirements that you need to take into consideration.
Question 3 – Is Ezoic hard to use?
Another question that comes up a lot is if Ezoic is difficult to use – The short answer is: No, absolutely not. In fact, dealing with a multitude of WordPress Plugins to meet Site speed Goals, place Ad Placeholders and so on is much, much harder than using Ezoic.
This is especially true if you use WordPress since Ezoic has a WordPress Plugin that is actively developed and constantly updated, which makes it super easy to integrate Ezoic into your website. They even have a dedicated Blog that covers WordPress optimization in detail.
Just a couple of weeks ago I did an experiment with a side-project of mine. I wanted to know how long it would take me to integrate a WordPress site to Ezoic from scratch, I'm not gonna lie, I was impressed with the result.
I used my own Crypto Website for this experiment. Let me walk you through the process:
Install Ezoic WordPress Plugin
Click on "Add Website" in the Ezoic Dashboard
Enter Website Name
Point DNS Records from my hoster to Ezoic (Easier than it sounds)
Follow through the integration Wizard on Ezoic
Activate Ezoic
Activate Leap
Sit back and wait
That was all I did. Ezoic automatically placed Ads on my website and within a couple of days of activating Leap, my site speed increased by more than 40% without doing ANY further optimization.
Now, after just 2 weeks my side-project is generating revenue without me doing anything else than the steps above (mind you, I just have about 100 views a day on that website).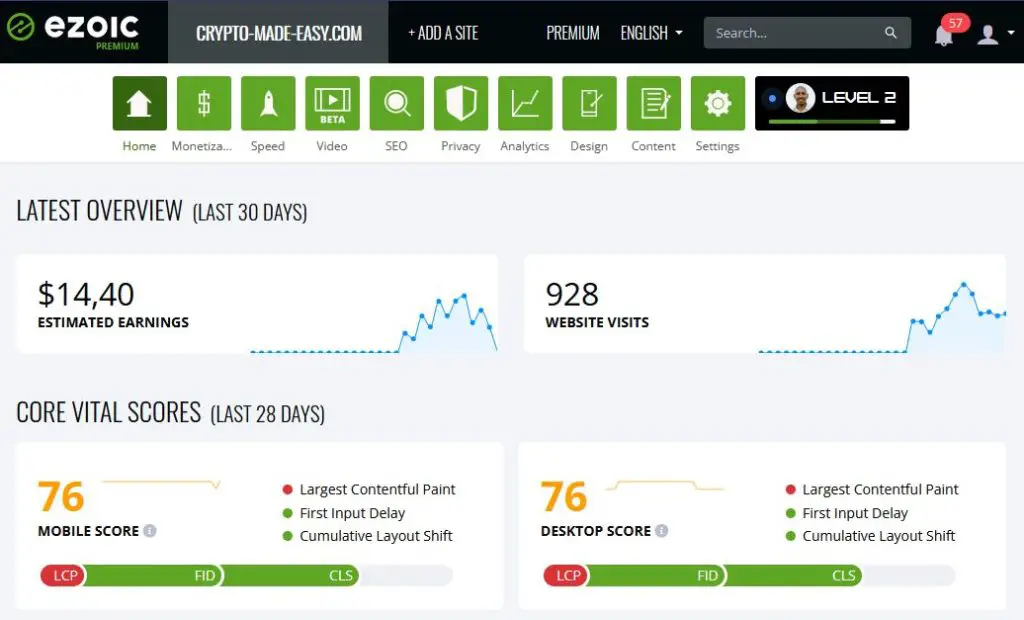 Ezoic allows me to run a minimum amount of plugins on WordPress and I can manage most of the things via the Ezoic Dashboard.
I would even go so far as to say that I would not run a WordPress website without Ezoic anymore. Leap just makes page speed optimization too easy.
Question 4 – Is Ezoic free?
Yes – Ezoic is completely free to use for you unless you decide to go for Ezoic Premium.
I have been using Ezoic for free for a long time until I spent some time researching the advantages of Ezoic Premium. Since that moment, I am constantly subscribed to Ezoic Premium – Why? Because so far, for the past 3 years, I have earned more money through Premium than I paid for Premium – without exception.
That makes it a no-brainer for me. The current Ezoic Pricing can be found below, but I suggest double-checking because they tend to optimize their pricing models quite frequently.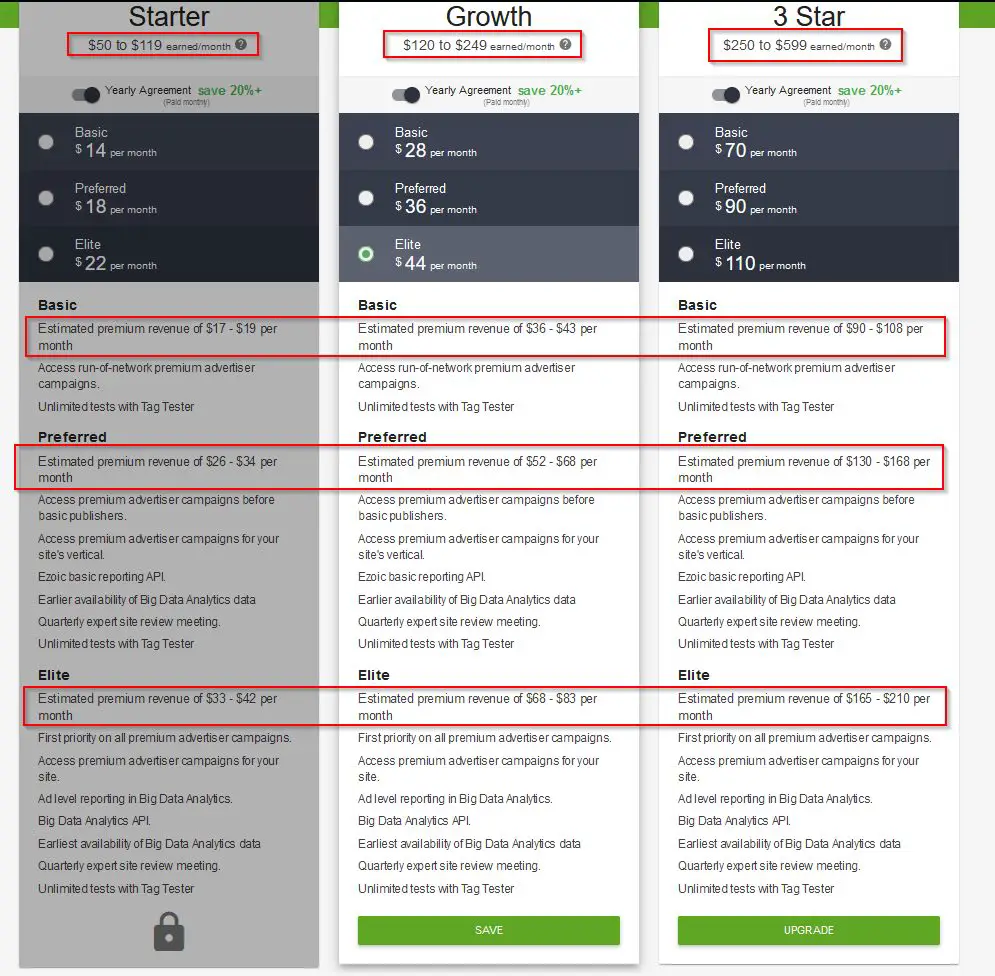 Ezoic Pricing and their Premium Plans are set up according to your monthly revenue. The beautiful thing is, that you can enable auto-upgrade and auto-downgrade – which means you automatically pay less should you get fewer visitors and revenue.
On the contrary, if you earn more money and Ezoic sees the potential of upgrading you, they do that automatically too.
I have had those features enabled since they came out and I am very happy with the results so far.
4.1 – But wait, this all sounds too good to be true…
Yes, you are right. This is usually the part where I tell you the one huge BUT that keeps you from signing up with them. BUT… There is no but.
Let me explain.
I actually thought about this myself. Why is their customer service so good and helps me with all the stupid questions I have? Why do they inform me about new features that earn me more money? Why do they never get annoyed by me asking tons of questions and help me to optimize my WordPress site for free?
Until the (now) obvious dawned on me…
If I earn more money… They earn more money too!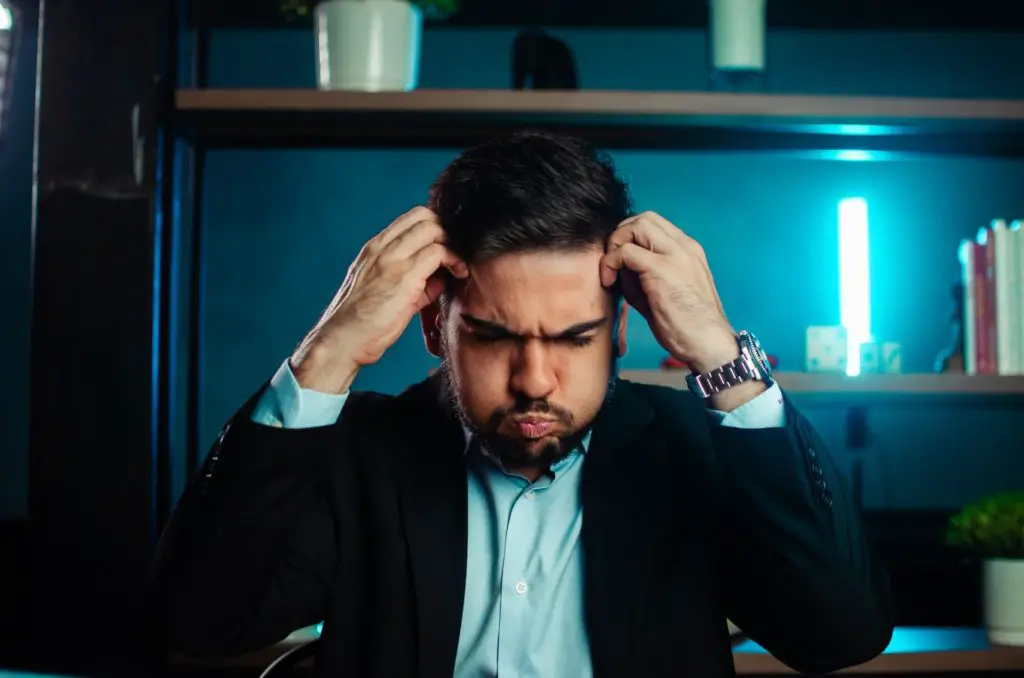 It took me way too long to realize the obvious, but once you do, it all makes sense. They want you to earn more money since they earn more money that way as well!
TL; DR
For the lazy bunch of you, let me summarize the most important information in this article when it comes to Ezoic Requirements:
How many page views do I need to join Ezoic?
Will my content work with Ezoic?
Yes, as long as:
Your content is original and unique.
All your traffic must be identifiable, coming from humans (not bots), and without violating their common policies.
If your site is already using Google Adsense it must be in good standing with Google
Your content is not controversial / against their policies
Is Ezoic hard to use?
No, in fact, Ezoic makes using WordPress easier.
Is Ezoic Free
Yes, with Premium Options available that allow you to earn more money.
Conclusion
I hope this should answer all of your questions when it comes to Ezoic Requirements. There aren't really that many requirements to join them anymore.
I have been with Ezoic since the very beginning and looking at the development over the past few years, I have only seen positive things.
They really put a lot of effort and dedication into making their platform better. As I had mentioned above, I wouldn't want to run a WordPress site without Ezoic Leap anymore. It's just too convenient. It's literally an all-in-one solution when it comes to site speed.
Should this article convince you to give them a try, I'd appreciate it if you use this link to sign up with them, which automatically will grant you a white-glove service with their onboarding team.