Ezoic Leap, in our opinion, is the best page speed tool available today – hard stop. We have launched this blog back in 2016 and we have tested every single WordPress page speed tool out there, both paid and free options. No tool, no matter the pricing or the "cutting-edge" features comes even close to what Ezoic Leap is able to do in terms of WordPress page speed optimization. In this Ezoic Leap review, we will have an in-depth look into what Ezoic Leap is and how you can get the most out of it.
We also share our own page speed metrics with you, before and after changing to Ezoic Leap. So, if you are striving to achieve the results below, read on and learn how.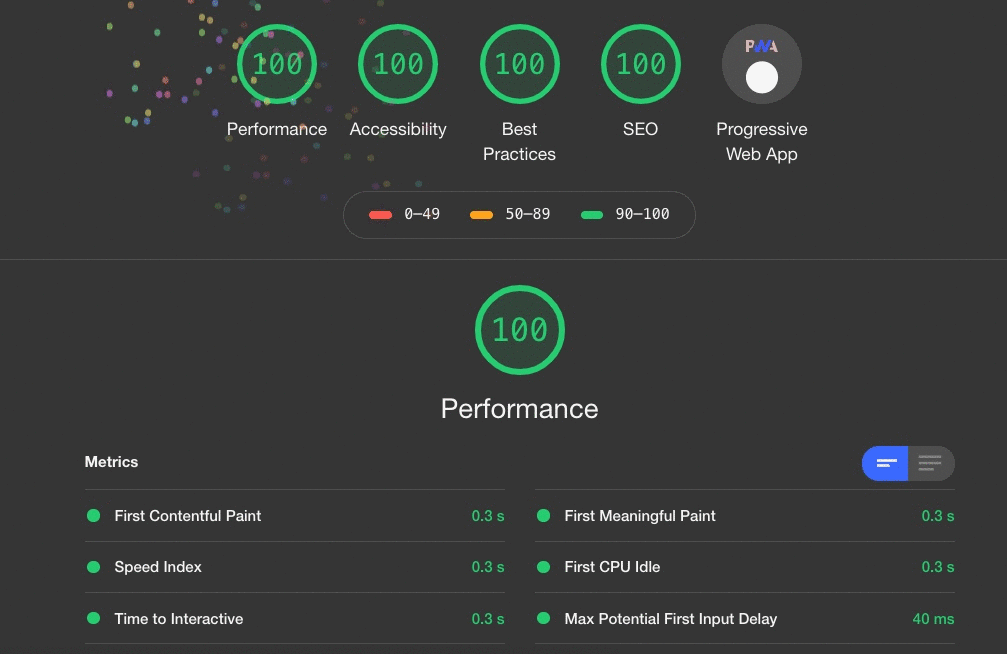 Table of Contents
What is Ezoic?
Ezoic is a Google-certified platform for digital publishers. We have been writing about Ezoic in our extensive review before. Ezoic makes it very easy to serve ads on your blog with the help of AI, and Ezoic has helped us to increase our website revenue tremendously.
But Ezoic is more than just an ad delivery network. They strive to become the best all-in-one solution for digital publishers. They now offer you to upload videos directly to their platform instead of using YouTube (which slows down your page speed quite significantly), they provide in-depth analytics of all the metrics you would ever wish for, but most importantly, they provide best-in-class customer service for their publishers. Among these things and many more that they offer, they also help you to improve your website performance with the most sophisticated tool we have seen so far – Ezoic Leap.
We have briefly cut into the topic of Ezoic Leap in our original Ezoic Review, but we have got so many questions in regards to Ezoic Leap that we decided to write a dedicated Ezoic Leap Review on the topic.
ℹ️ This Guide has related Articles!
👉 Ezoic Review – How Ezoic helped me to go Full-Time Blogger
👉 Ezoic Requirements & How to increase website earnings
👉 Ezoic Earnings – My Complete 4-Year Revenue with Ezoic
👉 Ezoic Leap Review – The Best Page Speed Tool Available Today
👉 Disable Ezoic Ad Placeholder by CSS Tag (The Easy Way)
The Goal of Ezoic Leap
Ezoic Leap is a tool that helps you to pass the critical new Google Core Web Vitals scores. It has been proven that websites that pass these new scores which Google has introduced back in May 2020.
The first thing that you have to understand is that Ezoic wants you to perform well. Since Ezoic is delivering the ads to your website, it is in their best interest that your website performs as well as possible, the simple equation here is: the more money you earn, the more money Ezoic earns.
Taking this into consideration makes everything much clearer. This is not an "it sounds too good to be true" kind of thing, because both parties equally benefit from better website performance.
We got a lot of questions in that regard in the past from our readers, a lot of "where is the catch?". There is no catch.
Ezoic Leap Key Features
Ezoic Leap is a complete toolkit that helps you to improve your website performance and pass Google Core Web Vitals. Here are some key features:
Core Web Vital Friendly Ads
The biggest reason for slow websites that run ads (Google Adsense for example) is the ad delivery time. The more ads you run, the slower your website gets. With Ezoic Leap, that is not the case. They serve Core Web Vital Friendly Ads that load instantly by utilizing the Ezoic Cloud and cutting-edge server-side rendering (SSR) technology.
No More Guessing
Running Google Lighthouse and trying to follow their recommendations (which you have no clue what any of them mean) is over. Ezoic Leap gives you detailed instructions on what exactly you need to do to eliminate slowing factors on your website due to its actionable diagnostic tools.
Top Performance Without The Cost
You don't need to use any more subscription-based WordPress plugins with millions of settings to adjust, generating below-average results. You only need to use Ezoic Leap, which is completely free of cost.
With Ezoic Leap you don't need to use any more plugins like these:
Caching Plugins
Site Speed Plugins
Lazy Loading Plugins
Image Size Reduction Plugins
This can cut your yearly web hosting bill down a couple of hundred dollars – at least it did for us.
Ezoic Leap is Recommended by Google
As of writing this article, this is brand new information. Since Ezoic is closely working together with Google (they are a Google Certified Service), Google is actually recommending enabling Ezoic Leap when you run a Google Lighthouse audit on more than one occasion. Below, Google recommends enabling Ezoic Leap to fix the "Eliminate render-blocking resources" issue:

And here, Google recommends enabling Ezoic Cloud Caching, which is a feature of Leap, to fix the "Reduce initial server response time" issue:

This is great news since it shows that Google acknowledges and recommends Leap to increase WordPress performance.
How to use Ezoic Leap?
By now you probably ask yourself how you can actually use Ezoic Leap. But first, let's clarify one thing: cost. As I have mentioned above, using Ezoic and Ezoic Leap is completely free. All the premium features they offer are completely optional.
So the first thing you need to do is to create an account. There are some minimum requirements to join Ezoic in terms of traffic, but if you use our link to sign-up with them, your chances of early approval are increased since we are working closely together with Ezoic.
Once you are signed up, you need to integrate your website with Ezoic before you can get started. If you need help in that regard, you can send us an email at [email protected] to get help.
Ezoic Leap Requirements
To get the most out of Ezoic Leap, you should fulfill the following points: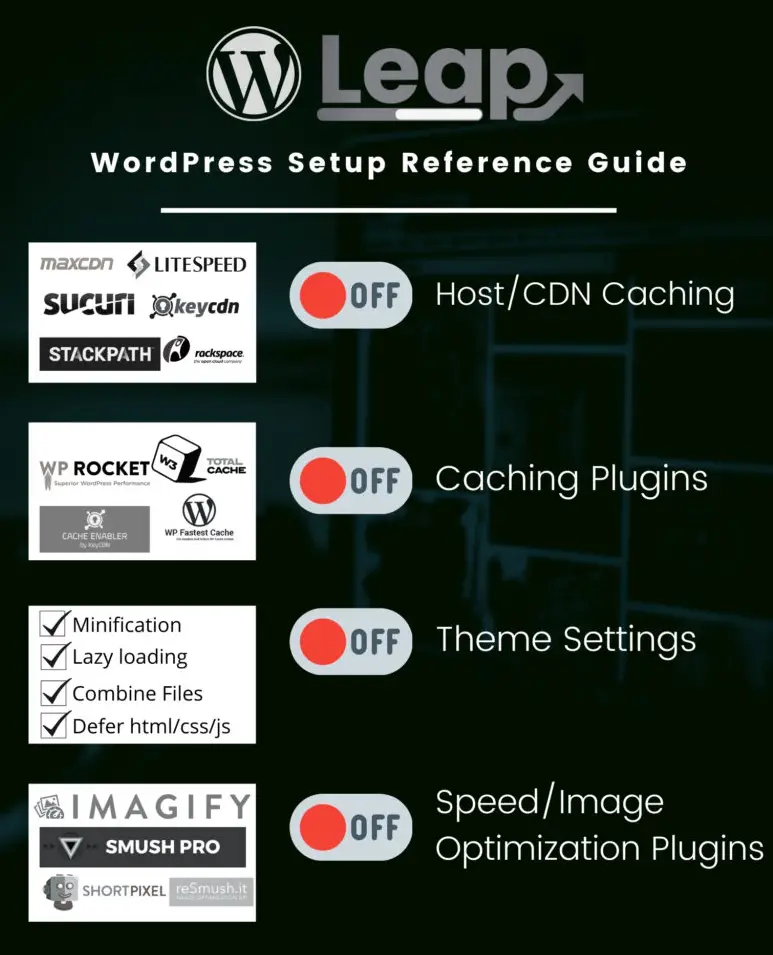 Getting Started with Ezoic Leap
Once you are finished with integrating your website, setting up Leap is a breeze. Navigate to the speed settings from your Ezoic Dashboard. The first time you get there, you will be guided through the integration process: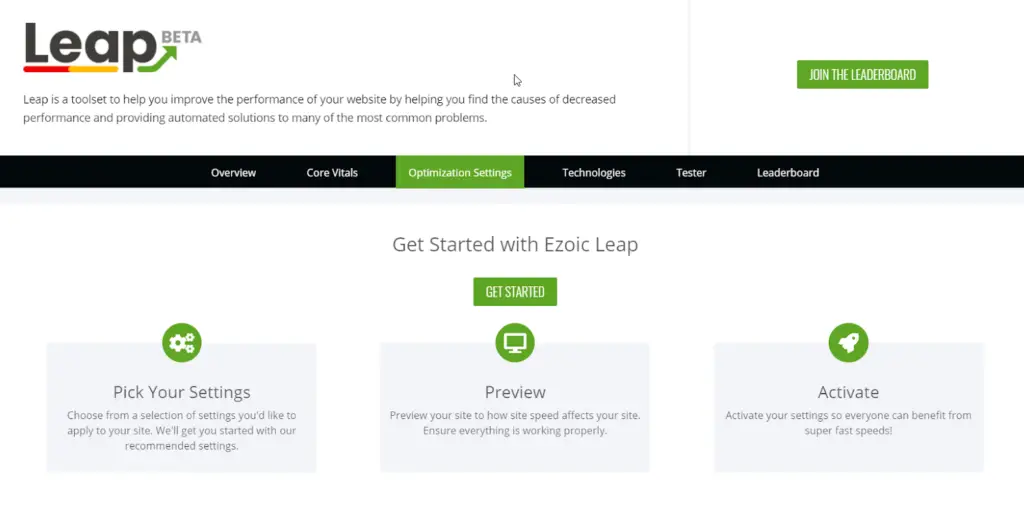 Just click on GET STARTED and the initial setup process will start. Next, you will be presented with the default settings, which we recommend leaving exactly as they are to start with a good baseline: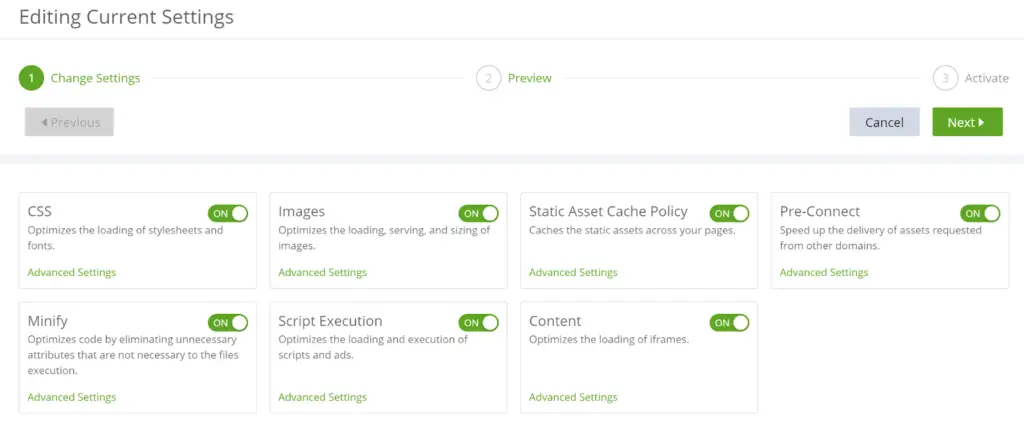 Leap needs some time to analyze and optimize your website. These settings can be changed at any time, but the good thing is, Leap gives you recommendations as to which settings to tweak later on. From our own experience, it is always worth playing around with these settings should there be any kind of performance issues.
The great thing is, that you can choose and copy settings from a similar website (same template and technology) from the Leap Leaderboard, but more on that later.
The Dashboard
When you have finished the integration process, you'll get access to your dashboard. This dashboard gives you a quick overview of how your site is performing in terms of Core Vital Scores: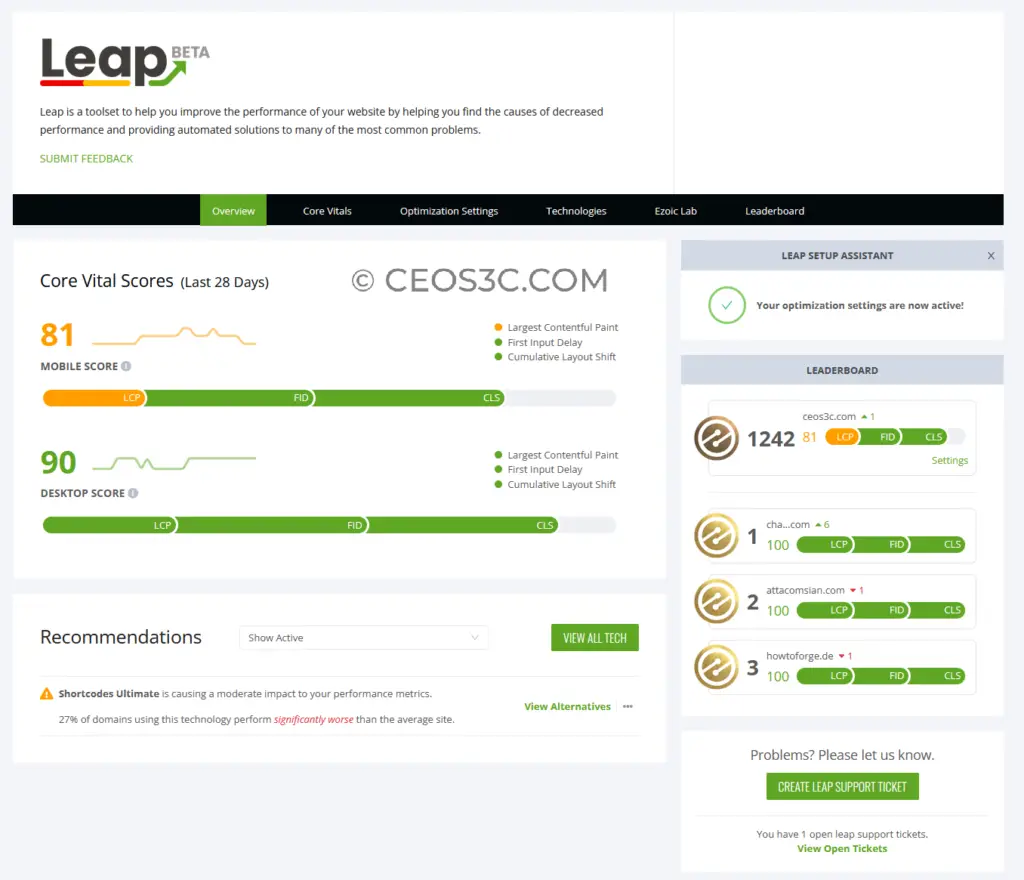 Here you can quickly see your mobile and desktop Core Web Vital score as well as your position on the leaderboard as well as the recommendations of what you should do to improve your score even further.
Performance Recommendations
These recommendations have been incredibly helpful for us. Not only do you see which technologies slow down your website, but you also get direct instructions on how to solve these issues and how many websites using these technologies are slower than others:
If you click on View Alternatives, Ezoic offers a list of better-performing alternative plugins/themes/technologies. This is very valuable and a huge time-saver when you work on optimizing your scores: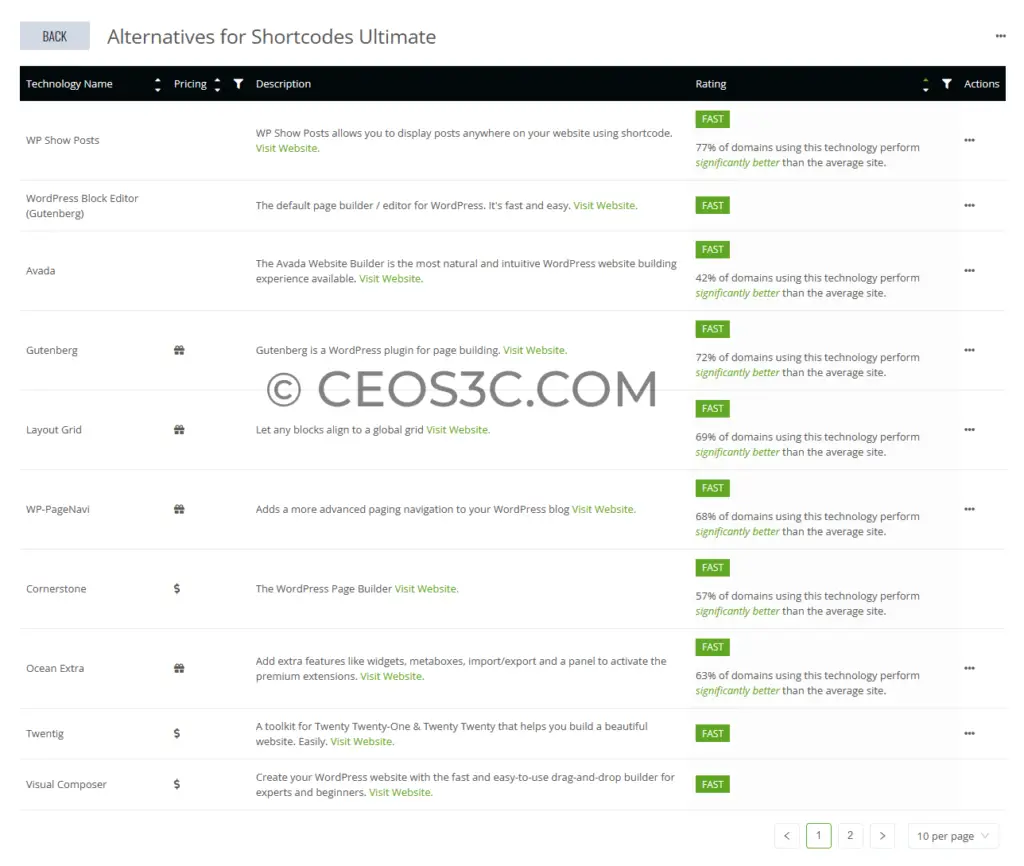 Core Vitals
When you navigate to Core Vitals on the Leap navigation bar, you get access to more specific Core Web Vitals metrics like LCP (Largest Contentful Paint), FID (First Input Delay), and CLS (Cumulative Layout Shift). These are the core metrics that Google looks for in terms of speed.
Ezoic Leap shows you exactly which pages are slowing down your site the most in the past 28 days, 7 days, or just yesterday: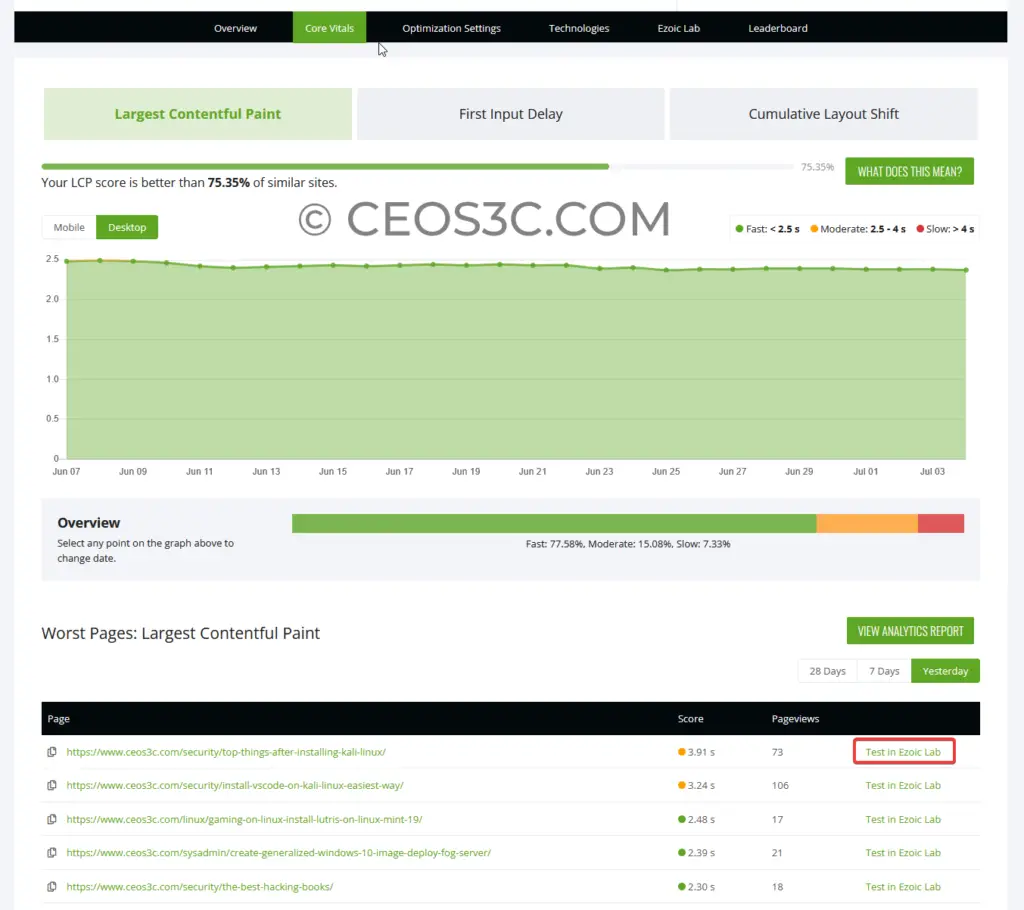 This allows you to see which pages need your attention, but it does not end here. If you click on Test in Ezoic Lab next to the respective page, you get in-depth insights into what slows down this particular page.
Ezoic Lab
Leap will now analyze this page, which can take a couple of seconds, and present you with a result that exactly shows you what is slowing down your page, both on mobile and desktop: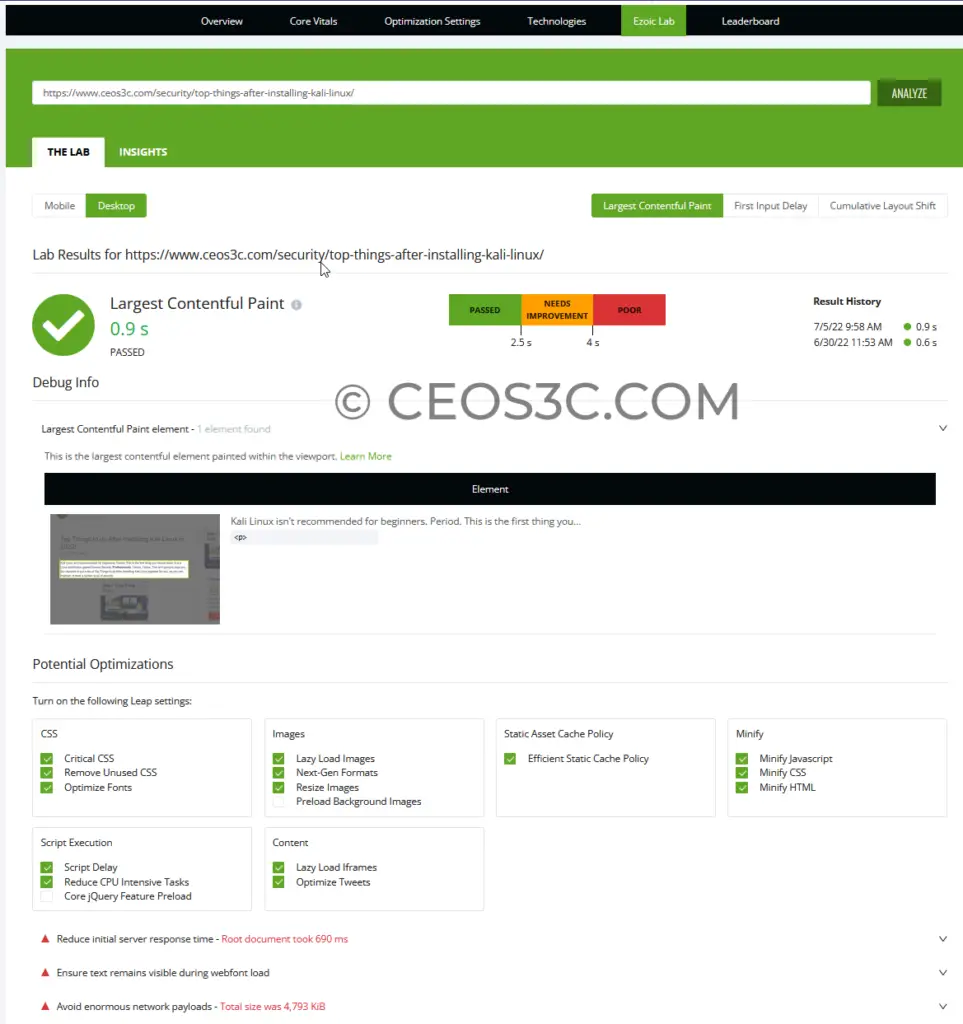 Here you get specific recommendations on how to solve this issue. Ezoic Lab even tells you which Leap settings you should enable to help solve the problem. You can also click on the INSIGHTS button to get a more detailed overview in terms of Core Web Vitals: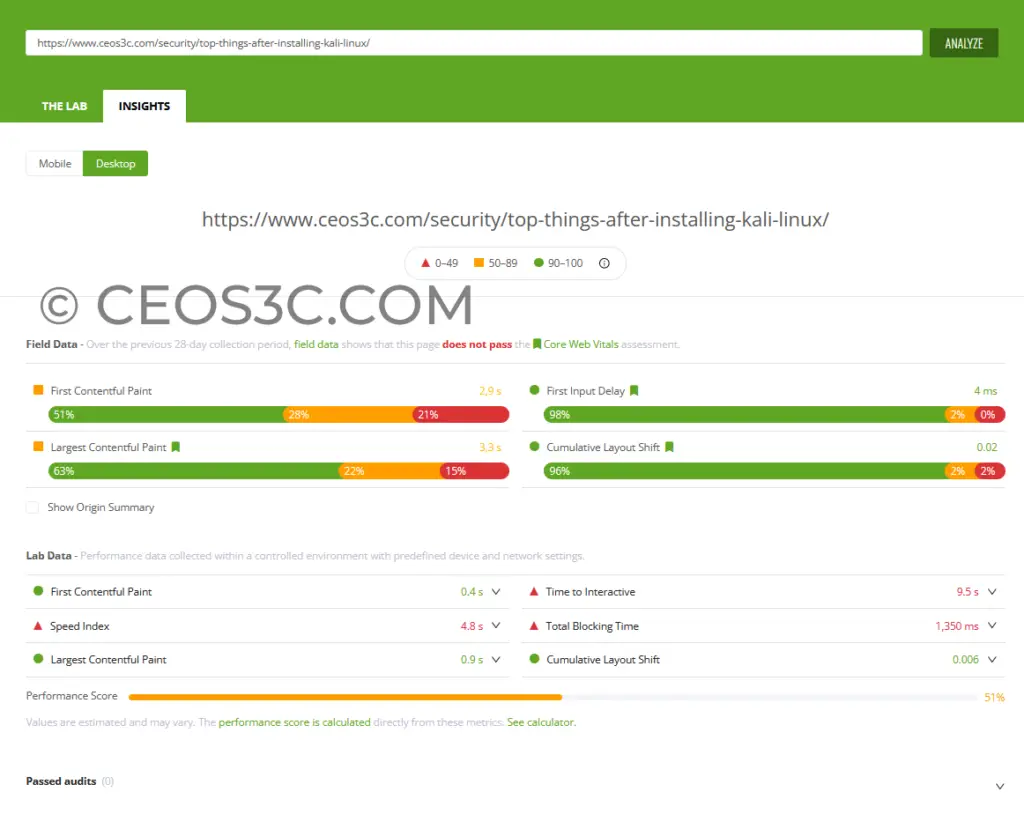 In terms of details and ease of use, we haven't seen anything close to what Ezoic Leap is offering in other WordPress plugins.
Optimization Settings
As previously mentioned, you get to tweak and adjust your Ezoic Leap settings as you see fit. We won't cover every single one of these settings in this article, as this would make it way too long. If you have any questions about one specific setting, or you need guidance in general, you can create a ticket with the Ezoic Leap Support Team and they will help you out.
Inside your Optimization Settings menu, you can change your current settings on the fly, you can clear your optimization data and you can even enable leap on a device basis. You can also exclude certain pages from Leap or import Leap settings from another website that you are running. This is really convenient if you run multiple sites with the same template. Our favorite feature here is the Settings History option. This allows you to revert back to an old configuration, in case your current one isn't performing as well as the previous (or any older one). The settings history goes back until the first time you set up Leap.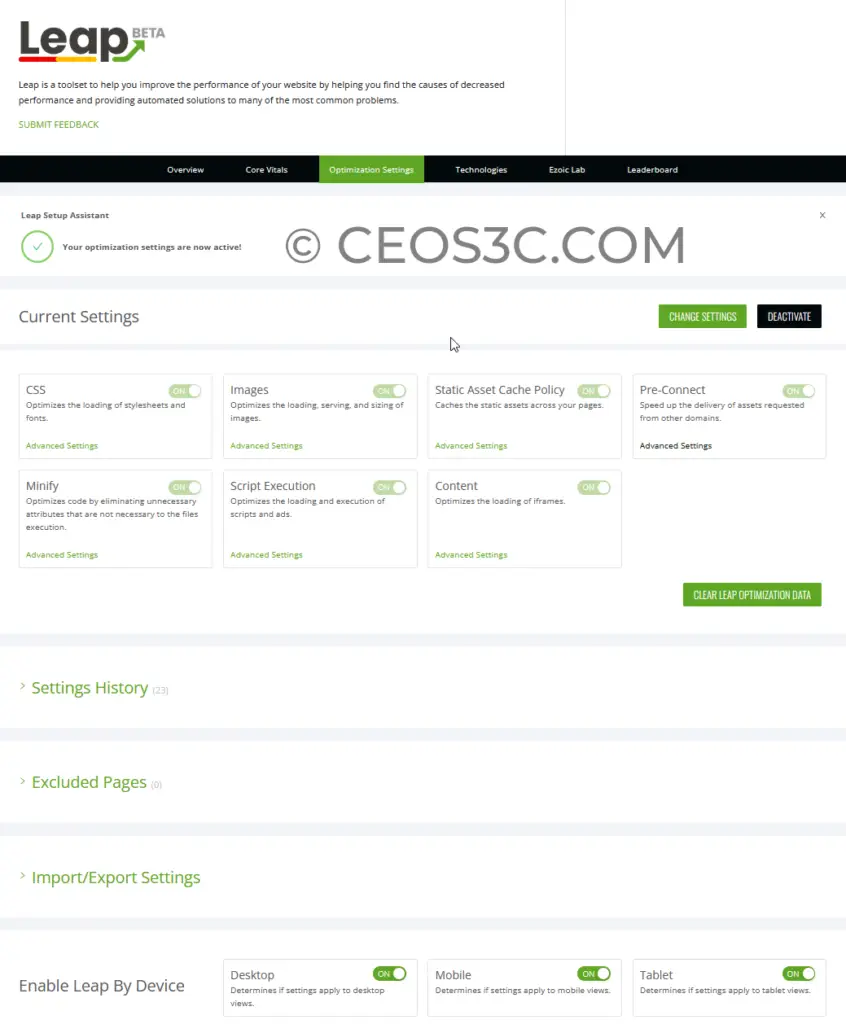 Technologies
The Technologies tab shows you every technology/plugin that Leap has detected on your WordPress website. From here, you get optimization tips and you also see data on how well the plugins you have installed perform. This is really helpful because you see which technology is slowing down your site at a glance: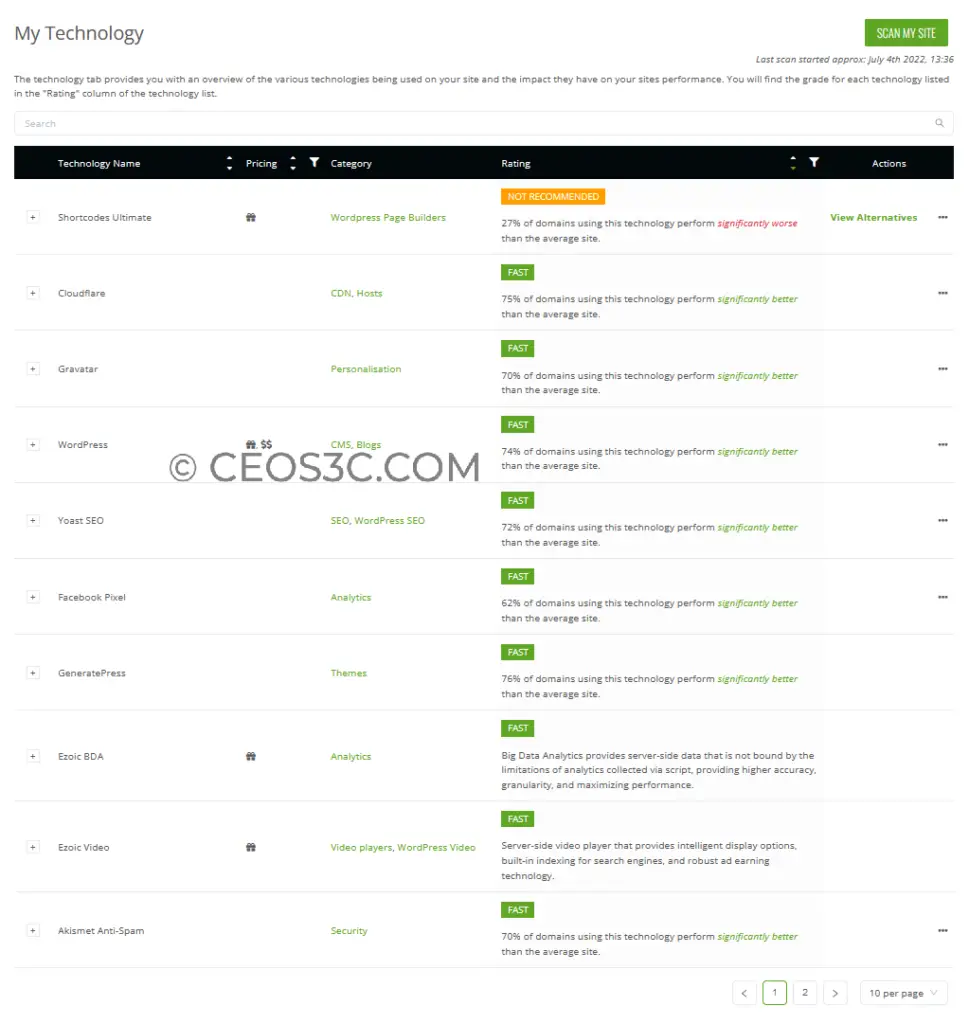 But not only that. The Technologies section also offers you a whole catalog of plugins/technologies that Leap has collected data on via the Technology Library at the bottom of the page. This is a great little extra feature that helps you determine if you should implement new features on your website or not.
Here, all technologies are sorted by category. If you would just enter the search term "SEO", you get a whopping 17 pages full of plugins that have been analyzed by Ezoic Leap with full performance scores and recommendations. You also see how many Ezoic Leap users are using certain technologies and how they perform.
This really helps to avoid any pitfalls of installing plugins that slow down your WordPress site. Plugins, next to themes are the most contributing factor to slowing down a WordPress website. This feature alone has saved our team a ton of time in regard to website development.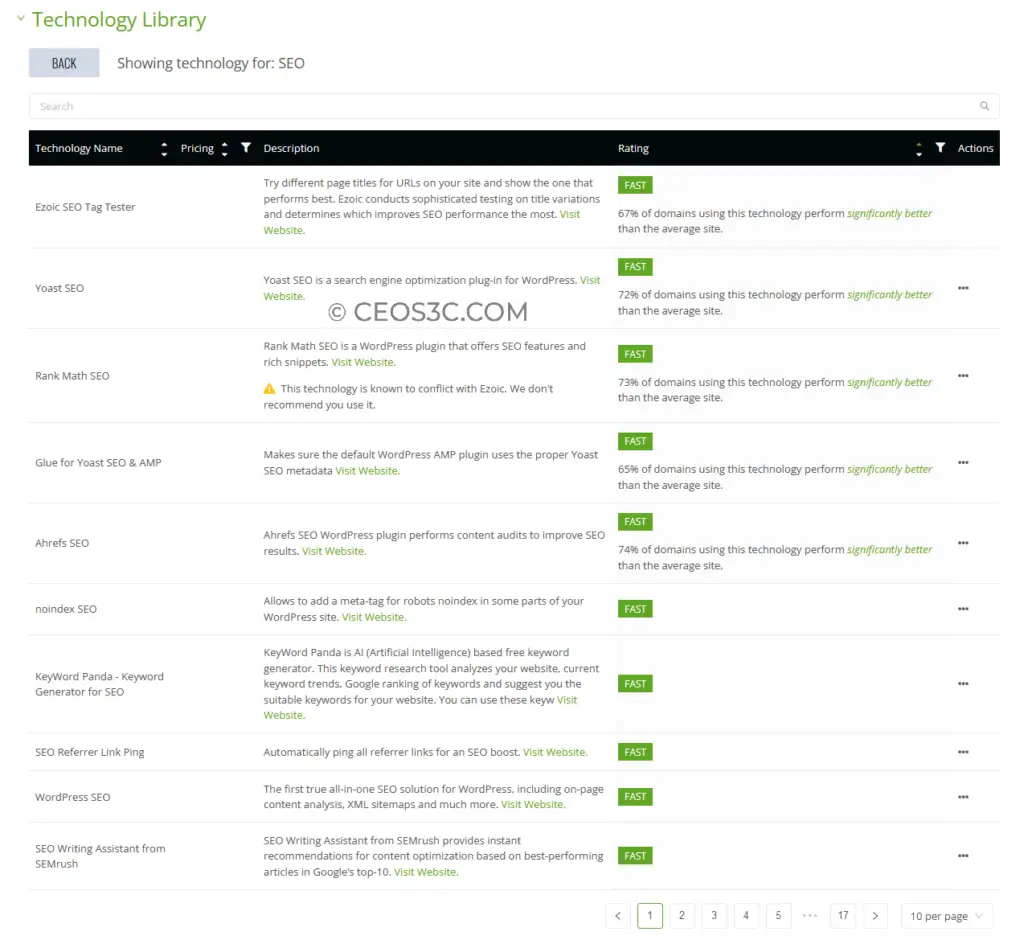 Leaderboard
The Leaderboard is the last feature we are going to cover in this Ezoic Leap Review. You have a couple of choices to include your website on the Leaderboard:
Don't include your website at all.
Include your website anonymized (this hides your URL).
Include your website with URL.
If you are unsure, we definitely recommend including your website anonymized. Not only do you get to see where you are at performance-wise, but you also get access to all other Ezoic publisher's website performance data and settings.
This feature is really amazing, since you are able to, for example, find another publisher who runs the same technologies/template as yourself (you can just search for certain things like theme names in the search bar), and you can simply click on TRY THEIR SETTINGS to see if your website performs better with their settings.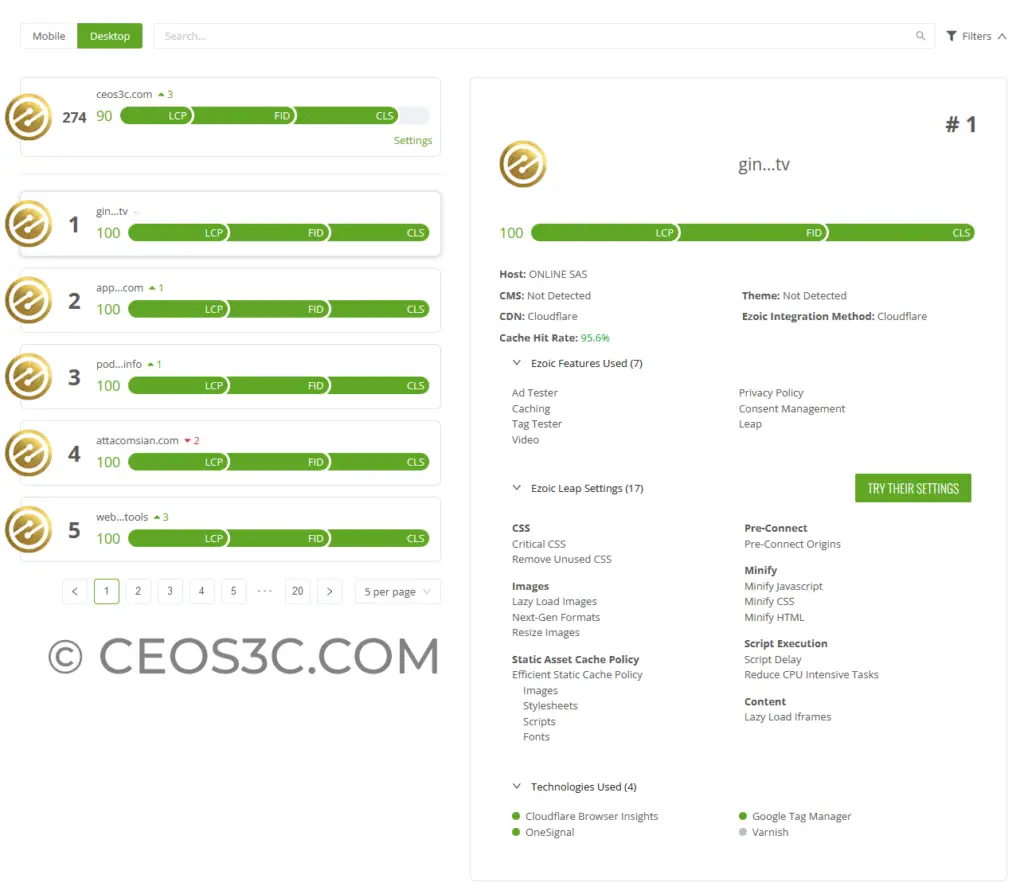 We like this feature because it is an easy way to try out new settings that work for other publishers with similar technologies. And you can always revert back to your own settings by using the Settings History feature mentioned earlier.
Ezoic Leap Review Conclusion
This Ezoic Leap Review should give you a pretty good idea of what to expect when using Leap. When I first started this very blog by myself, I was spending countless hours trying to optimize my website performance. I paid a lot of money for premium plugins and developers and I wasted a lot of time learning the ins and outs of WordPress optimization.
Since I switched to Ezoic Leap, I don't even think about it anymore. I sometimes tweak some settings or ask the excellent Leap Support Team for advice, but that's it. This really is an all-in-one solution and it works perfectly. Keep in mind that Ezoic Leap is still in beta officially, but it is available for everyone to use.
Should this article convince you to give Leap a try, make sure to use our link to sign up with Ezoic so they know you are coming from our website. This will ensure that you get first-class service when integrating your website into Ezoic.
Also, if you have any further questions in regards to this Ezoic Leap Review, or you need help with integrating your website into Ezoic, simply send us an email.