It's time to cover some vulnerability scanning! What better way to start this than with the installation of OpenVAS? Today I will show you how to install OpenVAS on Kali Linux in a step-by-step guide for you to follow along.
Table of Contents
What is OpenVAS?
OpenVAS is THE open-source vulnerability scanner. OpenVAS started under the name of GNessUs, a fork of the previously open-source Nessus scanning tool (which costs you money now). OpenVAS is also under the GNU General Public License (GPL).
I personally used this software in many different kinds of assessments and was always satisfied with the results I got (keeping in mind that it is completely free).
Of course, tools like Nessus and NeXpose are more feature-rich, but they come with a high price tag too.
For starters, OpenVAS is simply perfect and gives you a good idea of how a vulnerability scanner is working. I also found it very intuitive to work with.
So without further ado, let's dive right into the installation.
I install OpenVAS on a freshly installed Kali Linux in VirtualBox. If you want to know how to install Kali on Virtual Box check out this article.
🚀 This guide has been completely updated in August 2022
Step 1 - Install OpenVAS on Kali Linux
The first thing we want to do is to make sure that our Kali installation is up-to-date. So open a terminal window and run:
sudo apt update && apt upgrade -y

Code language:

 

Bash

 

(

bash

)
This will update your repository and upgrade your Kali, the -y at the end saves you a press of the button "Y" in the process.
The next thing we want to do is to install OpenVAS. Again in the Terminal type:
sudo apt install openvas

Code language:

 

Bash

 

(

bash

)
Confirm that you are aware that an additional ~1,2 Gigabyte of Disk Space will be used by pressing Y.
Now this will take a good while. Grab a coffee or prepare some Yerba Mate while we are waiting 🙂
Once that is done we will run another command in the terminal window:
sudo gvm-setup

Code language:

 

Bash

 

(

bash

)
This is going to take very long.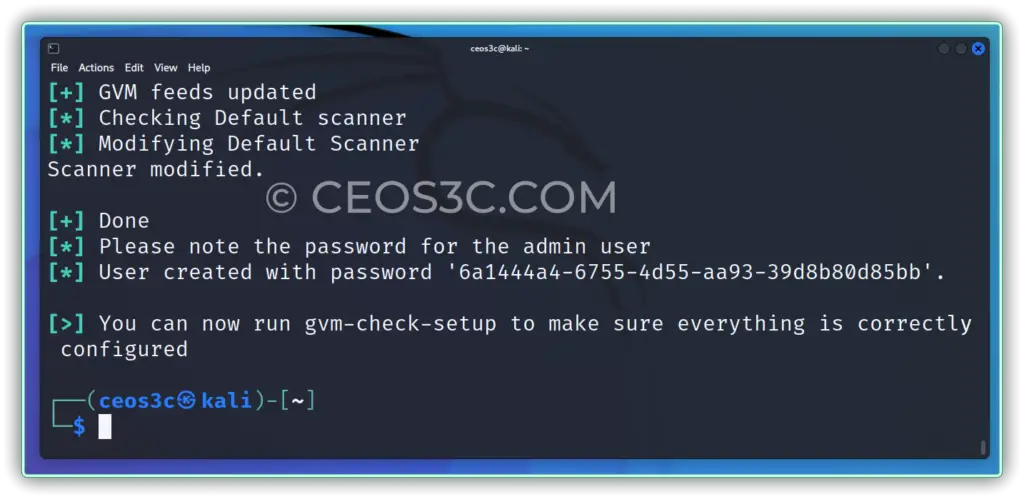 Phew... That took about 2 hours for me to finish. I still didn't get why it takes so long, but just go for a long walk and come back later...
After the setup process is finished, don't forget to note down your password that was generated at the end, you need it to log in for the first time.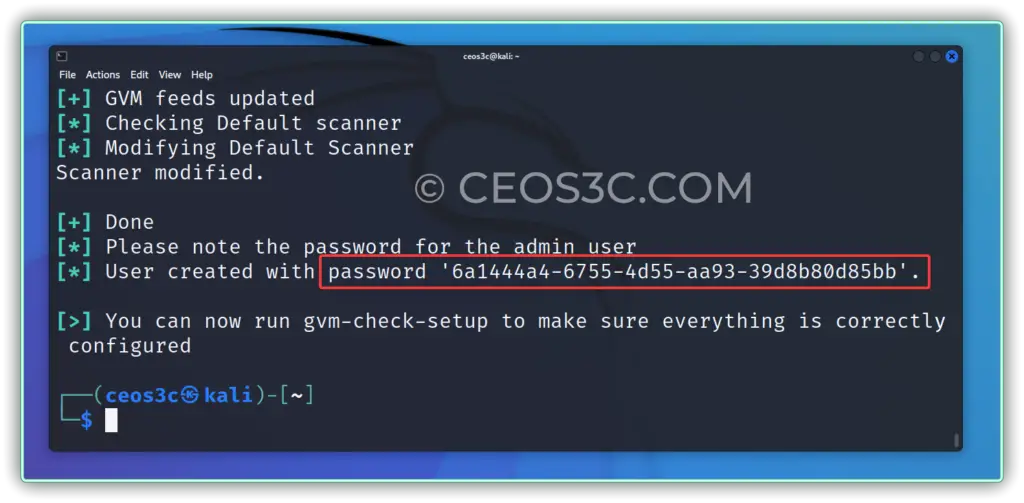 Step 2 - Configuring OpenVAS
The installation is now finished. Next, we verify if our installation is working.
sudo gvm-check-setup

Code language:

 

Bash

 

(

bash

)
I got an error (SCAP DATA are missing), but if you look through the error message, you can see that you can fix it by running:
sudo runuser -u _gvm – greenbone-feed-sync – 

type

 SCAP

Code language:

 

Bash

 

(

bash

)
This fixed my issue.
First, we are starting the OpenVAS Service.
sudo gvm-start

Code language:

 

Bash

 

(

bash

)
Now your OpenVAS Service should be up and running. OpenVAS listens on the Ports: 9390, 9391, 9392, and on Port 80. Your web browser should automatically open and lead to the OpenVAS Login Page.
If not, open a web browser manually and enter the URL
https://127.0.0.1:9392

Code language:

 

Bash

 

(

bash

)
The first time you want to open this URL you will get a security warning. Click on Advanced and Add an Exception.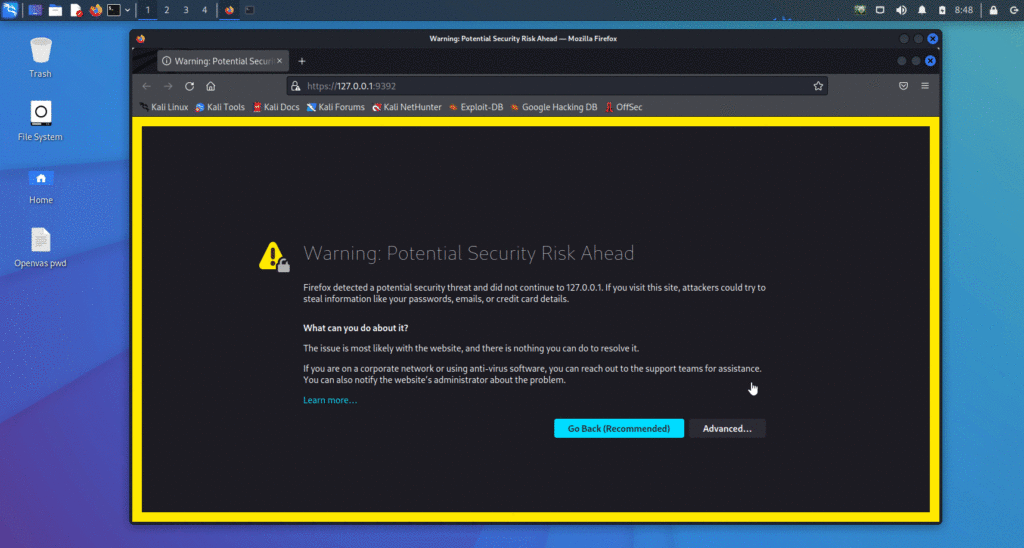 Remember the password you noted down before? Now we are going to need it.
Forgot your Admin Password?

Reset it by typing: sudo gvmd – user=admin – new-password=passwd;
Log in to OpenVAS with admin // your password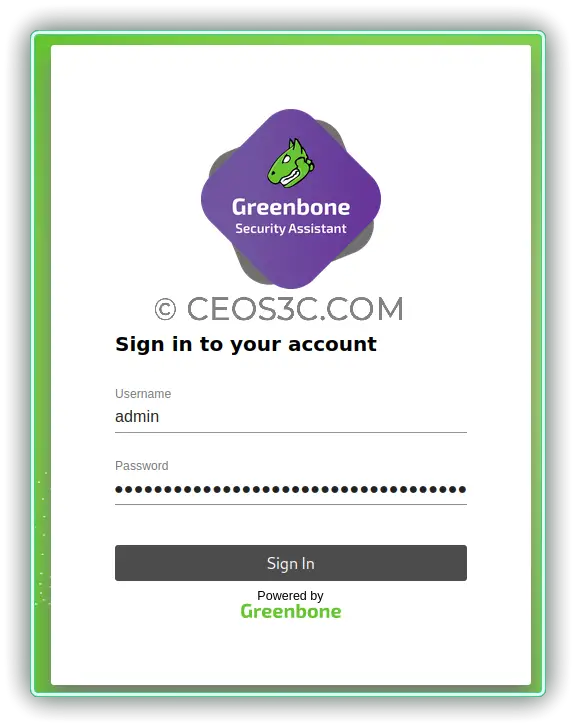 First things first - Navigate to To your User Profile / My Settings / Click on Edit and change the password.
This is basically all you need to do. OpenVAS is now running and ready for use.
Step 3 - Running your first Scan
Now it's time to run our first scan.
As this is just the installation part I won't go into details, but I will show you quickly how to run your first scan. There will be more articles covering OpenVAS and we will continue looking into all of the different options we have and how to process scan results.
So the easiest way is simply to Navigate to Scans / Tasks and click on the little Magic Wand icon and start the Task Wizard.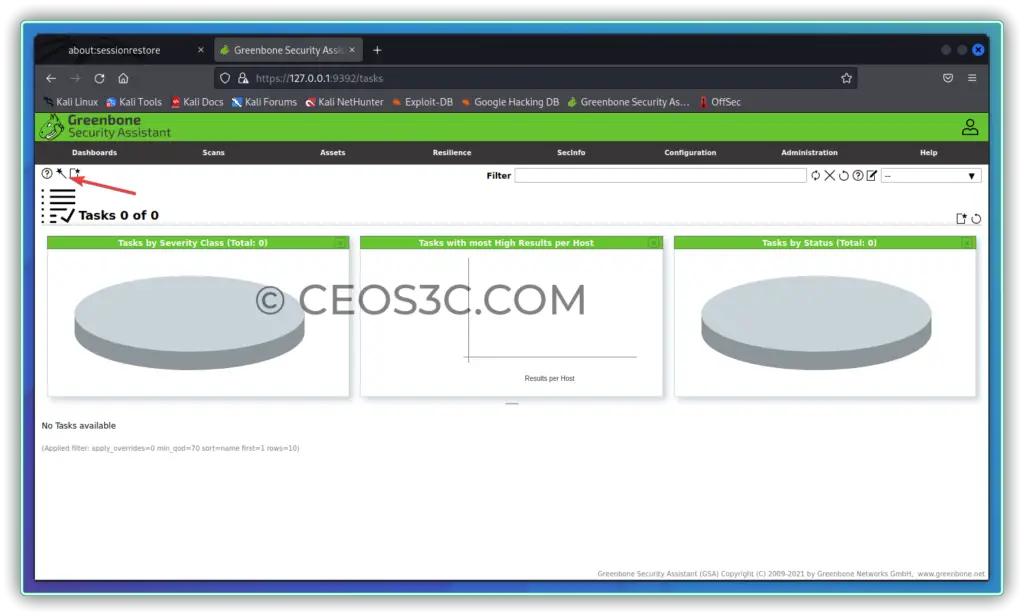 Now you can enter either a single IP, a whole subnet, a range of IP Addresses, or a domain.
This will start a default-depth scan. Depending on the scale of the Network you want to scan this can take from a few minutes up to several hours or even days if the network is large enough and you choose a deep scan.
This and more will be covered in the next article for OpenVAS which is coming soon.
Finding Exploits with OpenVAS
I created a video a while ago on how to find Exploits using OpenVAS, which basically goes through the whole process of scanning and then finding Exploits for your findings. The video is a bit older but still valid. Give it a watch if you want to learn how to use OpenVAS in-depth.
Conclusion
This is how easy it is to install OpenVAS on Kali Linux and to start a basic scan. There is a lot more to learn about OpenVAS, but this should get you up and running on no time!