In the last article, we introduced Ezoic Humix to you and, at the same time, integrated it into our blog. We have texted Humix extensively for 30 days, and this article will share our results.
Table of Contents
Overall Experience with Humix
Since writing the last article, we have been using Humix almost on a daily basis. We have uploaded videos manually that was shot specifically for Humix, but we also imported a lot of videos from our YouTube channel.
Both uploading manually as well as the YouTube imports work very well. Uploading videos is as easy as it gets, and importing them is done with a few clicks. Importing videos from YouTube has the benefit that all the metadata like keywords, titles, descriptions, featured images, and so on, are automatically imported as well, which is a massive time saver.
Our overall experience with the platform itself was pretty good. You can see that the Humix team is listening to feedback and is implementing improvements rapidly. You can see clearly that they put a lot of resources into the development of this video platform.
What we like the most
Some of the things we like the most about Humix are:
Ease of use.
Very simple integration process to integrate videos into blog posts.
Keeping 90% of the video revenue from our own video content.
The ability to share our videos in the Humix network and receive a 50% revenue split with the video owner.
The opportunity to display other creators' videos in our own blog posts that don't have videos in them and receive a 50% revenue split with the video owner. (Free additional revenue without the need to do anything)
The fast development cycles of the platform.
Our site speed has improved significantly since we swapped out YouTube embeds with Ezoic Humix embeds.
What we don't like
Even though our overall experience with the platform has been good, there are some things to consider when making a choice:
There are still a few bugs here and there that can throw errors when uploading or importing videos.
The integration process of placeholders, as well as embedding videos into articles, can be improved.
These are just minor things. The upsides far outweigh the downsides here. Even within the past 30 days, we have seen a couple of bugs quickly taken care of by the developers, so we are confident that the platform will keep improving.
Humix Revenue
Now let's get to the interesting part – revenue.
When we talk about revenue, we have to take into consideration that the Christmas holidays have taken place during these 30 days, and since most of our viewers are watching our content during work time, traffic and revenue have dropped quite a bit during the holidays.
Overall, we are very satisfied with the outcome of our test. We have uploaded around 55 videos overall during this time, which resulted in the following revenue:

As you can see, we made a total of $87.13 USD within those 30 days. This revenue is split into:
$29.80 USD from our own videos displayed on our own blog.
$15.20 USD from other publishers' videos displayed on our blog.
$42.14 USD from our videos displayed on other publishers' blogs.
Here you can see the power of Humix – we made more revenue from sharing our videos on other publishers' blogs than from the videos that we have displayed on our own blog. This is also more than double of what we earned on YouTube during the same period of time: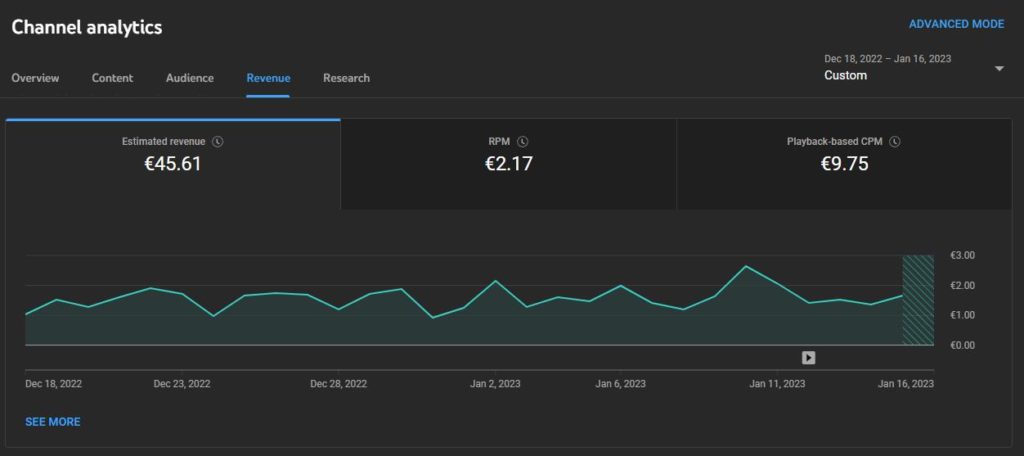 Video Traffic
Our videos have been played more than 220.000 times across multiple platforms using Humix. These are far more views than we receive on YouTube during the same period of time (22.000).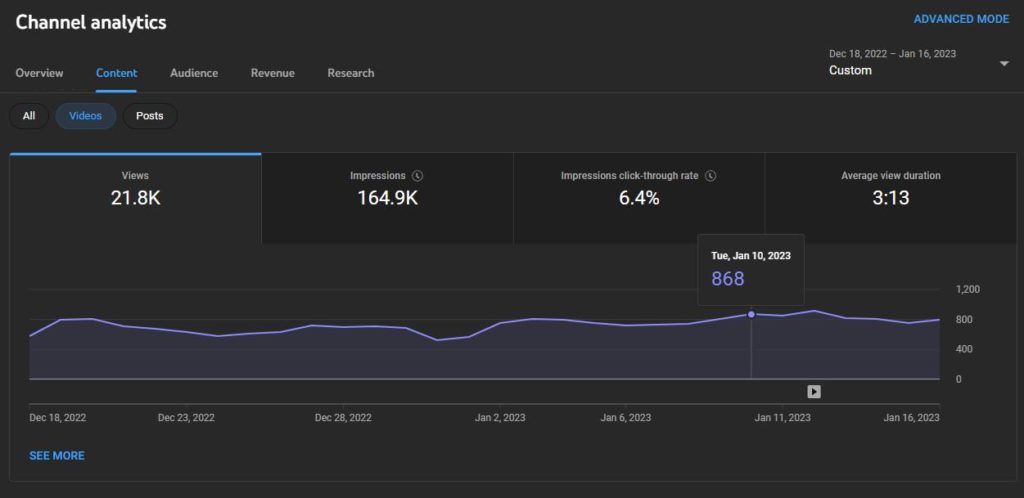 With Humix, we are able to reach far more people with our content than with YouTube, which is quite impressive if you compare the size of YouTube with Ezoic Humix.
Our Verdict
To summarize, we are definitely going to continue to use Humix heavily in the future. The results speak for themselves when it comes to traffic as well as revenue. The platform keeps improving almost on a daily basis, and we are happy to be early adopters of this project.
The prospect of sharing our content among thousands of blogs is too good to pass on it. If you want to learn more about Ezoic, we invite you to read our thorough four-year review.