Until today, I was still running the latest release of FreeNAS 11.3-U5 on my DIY NAS without any issues. While updating some outdated FreeNAS tutorials here on this website, I thought, why not upgrade FreeNAS to TrueNAS? Of course, I had to write a tutorial for you as well.
Table of Contents
Why FreeNAS No Longer Exists
FreeNAS was a popular open-source network-attached storage (NAS) platform that offered users easy, centralized access to all of their data. However, the project was recently discontinued.
FreeNAS decided to merge with TrueNAS because they wanted to streamline their distribution process. Instead of managing two products separately (FreeNAS and TrueNAS), they decided to unify them, which allows them to focus on improving one distribution instead of two.
This doesn't only make development much easier but also provides a much better user experience for us users. This change is positively seen throughout the community.
The Merge with TrueNAS
There are many different reasons why FreeNAS decided to merge with TrueNAS. One of the main factors was the desire to offer greater functionality and compatibility to users. In addition, by joining forces with TrueNAS, FreeNAS was able to expand its offerings to include a range of enterprise-level features and services.
Another important consideration was the need for improved security and data protection. By combining their resources and expertise, FreeNAS and TrueNAS were able to develop more robust systems that could better guard against malicious attacks or accidental data loss. Overall, it is clear that this merger has been beneficial for both companies and their customers, allowing them to offer a wider variety of services with greater stability and reliability than ever before.
Is TrueNAS and FreeNAS the Same?
There is some confusion surrounding the TrueNAS and FreeNAS systems, as these two platforms are often used interchangeably despite having important differences. At their core, both TrueNAS and FreeNAS are network-attached storage (NAS) solutions that allow you to run virtual machines on your local network.
However, while TrueNAS is a commercial solution that provides more robust functionality and support, FreeNAS is an open-source project with fewer capabilities. Additionally, TrueNAS comes with proprietary software and features developed by iXsystems, whereas FreeNAS offers only the core functions of FreeBSD and ZFS.
Ultimately, whether TrueNAS or FreeNAS is better for your needs will depend on your individual requirements for security, scalability, capacity, speed, and support. However, it is clear that simply equating one platform with the other doesn't always give an accurate picture of what each system has to offer.
The benefits of TrueNAS over FreeNAS summarized are:
Unification of TrueNAS CORE and Enterprise
Enhanced Software Quality
Improved OpenZFS Performance
Better Security
Modern Hardware
Cloud Management
Scalability
Do I need to Upgrade FreeNAS to TrueNAS?
This is probably the question most of you ask yourself, but the answer isn't that simple. There are a number of different factors that can influence your decision.
On the one hand, upgrading from FreeNAS to TrueNAS may offer some significant benefits in terms of performance and functionality. For example, TrueNAS has been specifically designed with high-performance data storage in mind, so it may be able to better support demanding workloads or large volumes of data. Additionally, since TrueNAS is built on a cutting-edge operating system, it may offer improved stability and security over FreeNAS or other data storage software.
If you read the opinions of users in the forums, the answer is: Yes, you should upgrade. The official TrueNAS documentation is also labeling TrueNAS CORE as "The Best FreeNAS ever." If this statement holds true, only time will tell.
In our opinion, we generally like to keep a mindset of "Never change a running system." So, if everything works fine and security is not a concern (especially if you only use your NAS inside of your home network without an outside connection), you don't have to upgrade if you are happy as it is.
For everyone who wants to be on the latest and greatest – let's dive into the upgrade process real quick.
Upgrade FreeNAS to TrueNAS
Let's first talk about requirements before upgrading, or rather recommendations.
FreeNAS to TrueNAS Upgrade Requirements
It is recommended that you run the latest FreeNAS build, 11.3-U5, before upgrading to TrueNAS. To make sure you are on the latest build, navigate to System -> Update and make sure you are on the latest build of the FreeNAS train: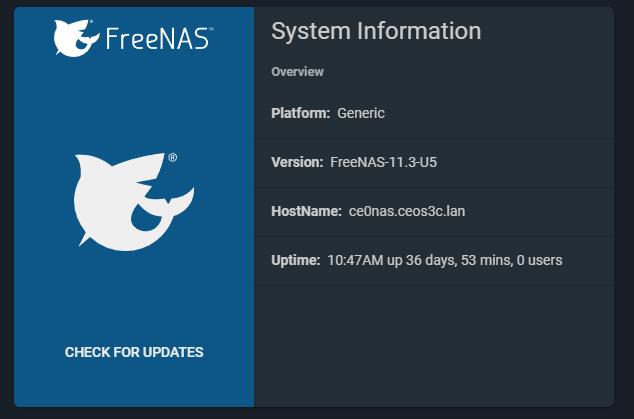 Upgrading from FreeNAS to TrueNAS
The upgrade process is very simple. Follow the steps below:
1- Navigate to System -> Update & Select the TrueNAS-12.0-STABLE Update Train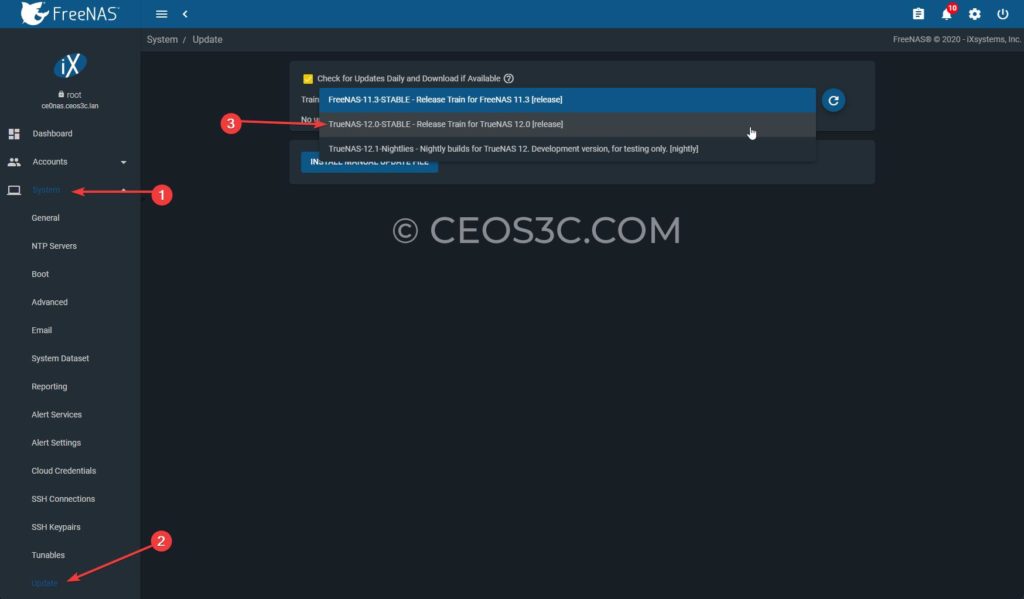 2- Confirm to Switch Trains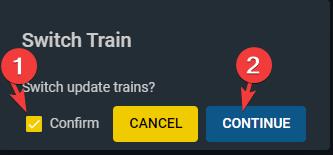 3 – Click on Download Updates
4 – Install Updates & Confirm All Dialogues
Post Upgrade
To Upgrade FreeNAS to TrueNAS, you will finally have to restart your NAS server. For us, the dashboard did not work after the first initial reboot. We had to do another reboot to get the Dashboard working again.
To confirm that the upgrade went through, you can click on the little cogwheel in the upper-right corner and click on About: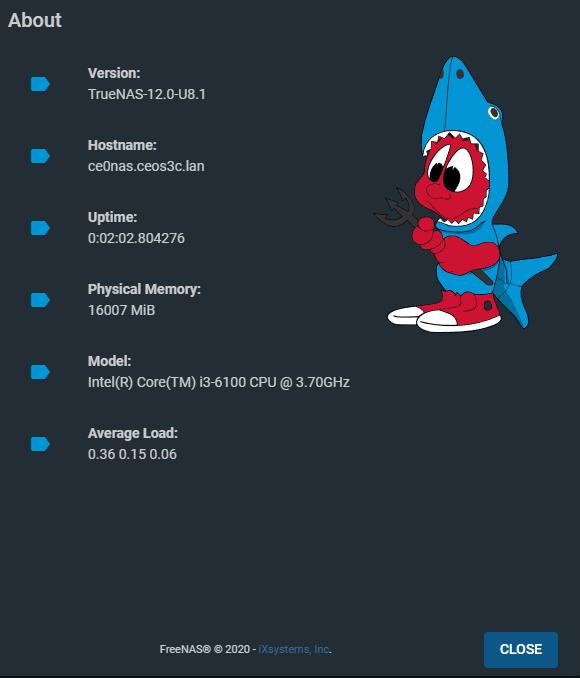 Conclusion
Gladly, the upgrade went through without any issues. Being on the latest version of the software is always a good idea in terms of security, but also, there is always a chance that something will go wrong.
If you wish to learn more about the many ways how to use your FreeNAS / TrueNAS server, check out some of our related tutorials below!
ℹ️ Related Articles
👉 My Popular DIY FreeNAS Build
👉 Use FreeNAS as an UniFi Controller
👉 FreeNAS Smart Tests & Scrubs
👉 How to install Plex Media Server on FreeNAS
👉 How to install FreeNAS
👉 How to create Windows Shares on FreeNAS
👉 Manually Update Plex Media Server on FreeNAS
👉 Upgrade FreeNAS to TrueNAS