Today I want to show you quickly how to Migrate UniFi Controller to UniFi Cloud Key. Read on to see the whole tutorial!
I use Ubiquiti Hardware for a while now and am quite satisfied with their products. So far I use the UAC-Pro and the UAC-LR (Long Range) Access Points.
I just used their Unifi Controller Software on my own Computer to manage the devices. Now I decided to get a Cloud Key to have everything centralized, in case my Computer crashes while I'm Out Of Office.
Because I already got the Unifi Controller Software running, I need to migrate it over to the Cloud Key, so I can keep all the settings I have made previously.
I will walk you through each step.
Cloud Key Initial Setup
After you plugged your Cloud Key into your POE Switch Port or to a LAN Socket with a separate USB Power Adapter (NOT INCLUDED!), you have 2 ways of finding the device.
Option 1:
head to https://unifi.ubnt.com with Chrome Browser and Log-In to the UniFi Cloud. Install the Browser Ad-In and activate the "Discover Cloud Key" Option on top and the device should be found.




From here you can upgrade the Firmware and adopt the Cloud Key.
In case you don't want to use the UniFi cloud, there is
Option 2:
Find the IP Address of your CloudKey by checking your DHCP Server. The CloudKey automatically obtains an IP Address from your DHCP Server.
Enter the IP Address of your CloudKey into a Browser and click on Configure.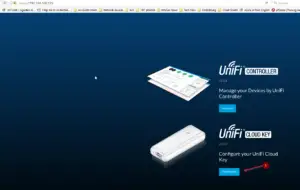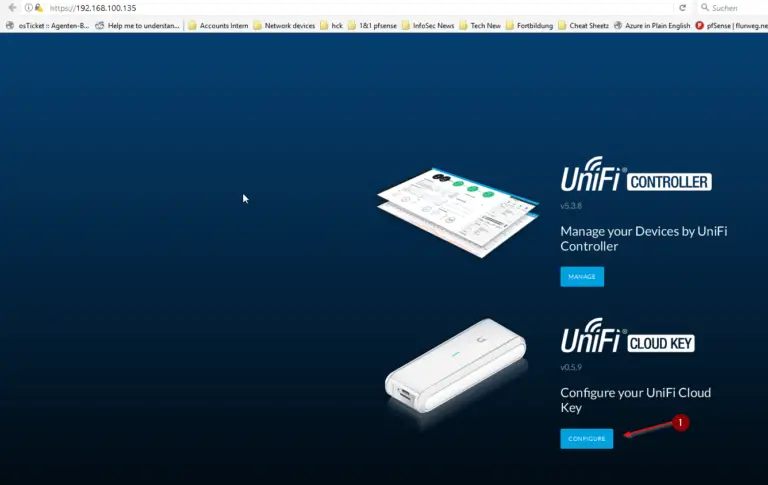 Login with the credentials ubnt//ubnt
Go ahead and Change the Default Password first.
The Username changes to root automatically.
Next, click on Configuration and select the correct Timezone and give it a Static IP if you want.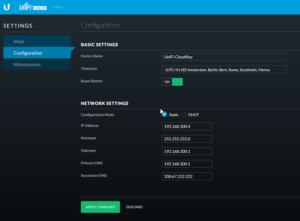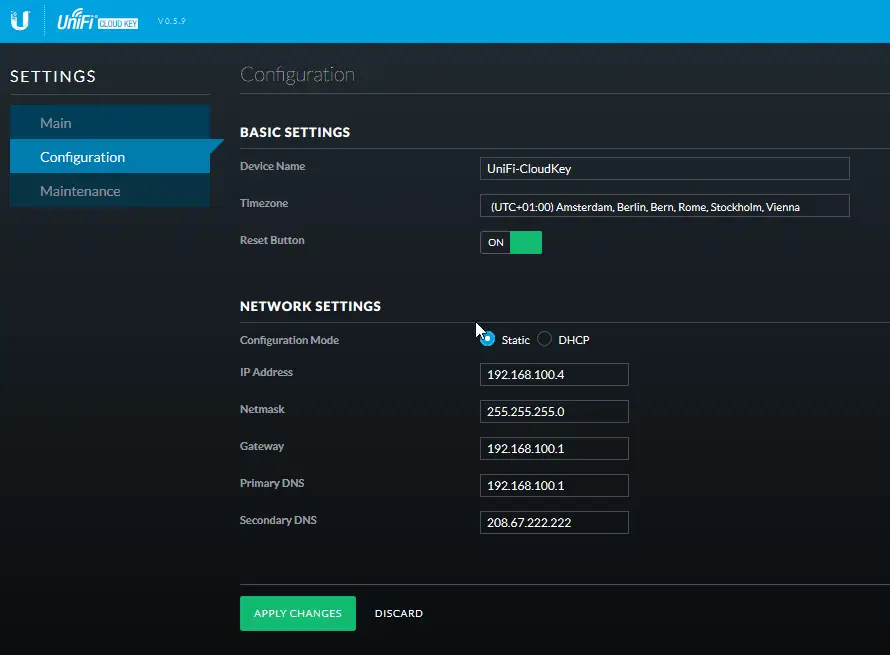 Reconnect to the device using the new IP Address.
Click on Configure to Configure the Cloud Key again and Navigate to Maintenance.
Click on Check for Update and Click on Update Now to ensure that you run the newest version.
If you run the Update, both the Cloud Key Firmware and the UniFi Controller Software will be updated to the latest version.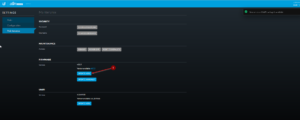 That's it for the basic setup of our Cloud Key.
Now we need to Login to our OLD UniFi Controller, which is installed on my computer at the moment.
Backing Up the Old UniFi Controller and directing the Controller to the Cloud Key
After logging in to your OLD UniFi Controller Navigate to Settings / Controller and enter the IP ADDRESS OF YOUR CLOUD KEY as Controller Hostname / IP.
Also, tick Override Inform Host With Controller Hostname / IP.
Click on Apply Changes.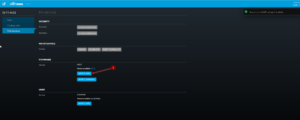 Next, Navigate to Maintenance and Download a Backup. It depends on you how far back you want your Data to be retained. I choose 180 Days.
Click on Download Backup.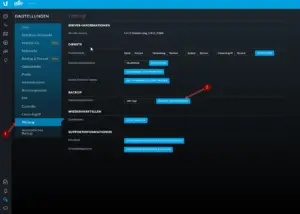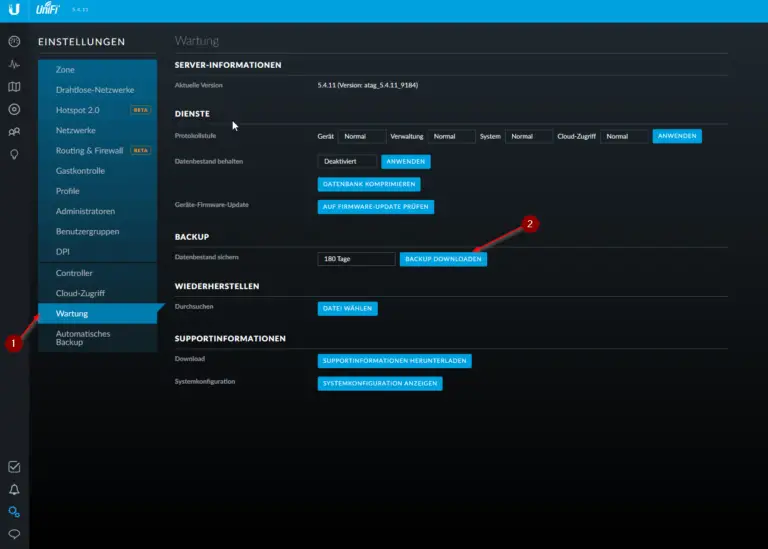 Now Navigate back to your Cloud Key IP Address in your Browser and this time click on Manage on your Controller.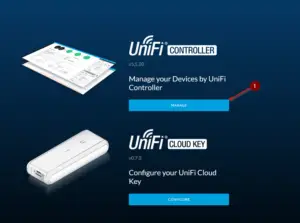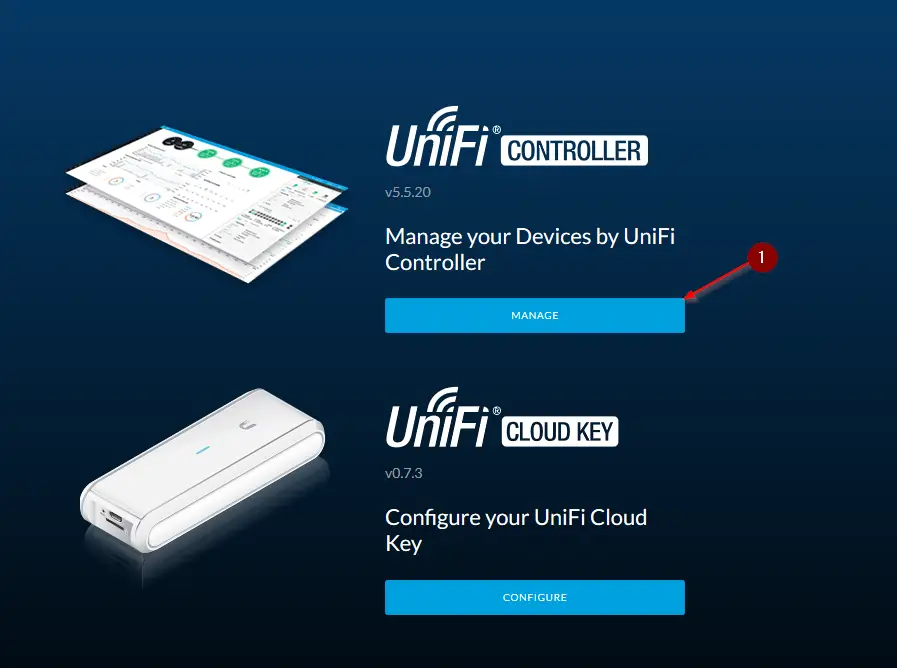 In the Wizard select your Time Zone again and now choose "Restore from previous Backup" and choose the file we just downloaded.
That's it! Now everything should be running on your new Cloud Key Controller.
I really love how simple everything is with UniFi. Can highly recommend their products.