In the ever-changing landscape of search engine optimization (SEO), NicheIQ emerges as a trusted companion for web content creators and digital marketers. Developed as a specialized suite of SEO tools by Ezoic, NicheIQ is designed to streamline your website's performance on search engines, enhancing visibility and fostering growth. At the same time, it offers a robust strategy for content creation, alleviating the usual pain points such as keyword research and competitor analysis.
If you want to learn more about Ezoic, I highly recommend reading our extensive Ezoic Review 2023.
Table of Contents
What is NicheIQ?
NicheIQ brings a variety of powerful tools under one roof:
Topic Suggestions
Tag Tester
Broken Links Checker
Page Booster Tool
Harnessing the power of NicheIQ means having an SEO wizard by your side, helping you fulfill strategic goals, boost traffic, and provide an unrivaled user experience for your visitors without spending countless hours on SEO research.
Topic Suggestions
Topic Suggestions is a feature within NicheIQ that performs automated research to identify evergreen topics that add consistent value to your domain. It reevaluates these topics weekly based on your site's and competitors' standings. Currently, this tool is only available for U.S. region (English language) websites due to data processing constraints.
The tool streamlines the content creation process by providing relevant topic suggestions, helping to attract more traffic to your site, and boosting your search ranking. You can access Topic Suggestions through NicheIQ from the dashboard, and for optimal performance, it's advisable to authorize your Google Search Console.
Topic Suggestions provides a wealth of information, including a bookmarking feature for easy reference and a 'Potential' score (0-10) for each topic, reflecting its estimated traffic, relevancy, and keyword difficulty. Additional details like estimated monthly organic traffic and keyword difficulty are also included.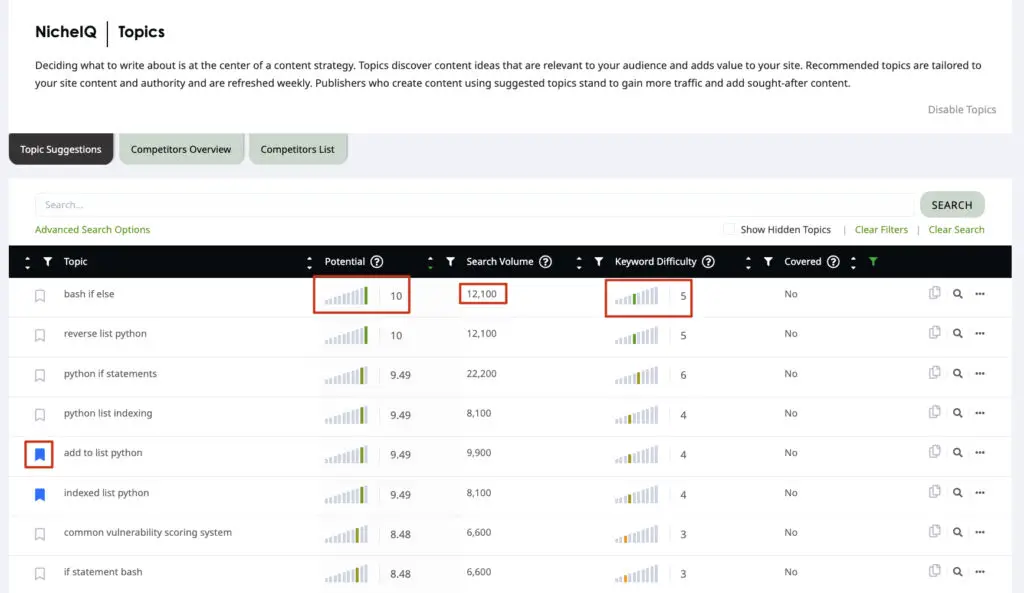 To facilitate quick action, the tool allows you to copy topic suggestions, search the topic on Google or Bing, and hide, mark as covered, or report inappropriate suggested topics. Tabs detailing competitor data are also included for a comprehensive overview.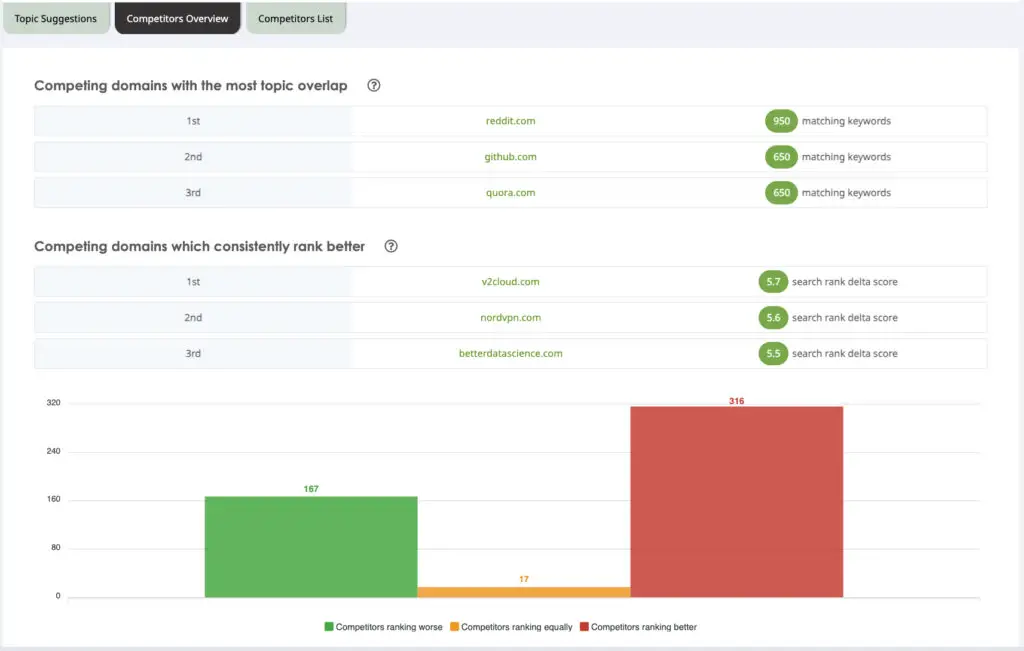 Moreover, an Advanced Search Options feature enables more specific searches using various modifiers (comma, plus, minus) in the search bar. The tool uses your current domain statistics to offer topic suggestions with the highest potential for your website, ensuring the proposed topics are within your site's reach.
Unlike other tools that provide instant updates, Topic Suggestions generates a new list of topics every week, focusing on evergreen topics that drive traffic over time. The data for 'Potential' and 'Keyword Difficulty' for bookmarked topics does not update over time, recommending you to select topics to write about within a few weeks for the most current and valuable suggestions.
Tag Tester
Tag Tester is an innovative tool within the NicheIQ suite that allows you to A/B test combinations of title tags and description tags on your site. With this tool, you can identify which variation improves click-through rates (CTR), drives traffic, and reduces bounce rates, thereby enhancing your site's SEO performance.

Title tag testing is crucial as indexed titles with relevant content are ranked higher by search engines. Proper titles can boost CTR, reduce bounce rates, and increase traffic. Machine learning identifies the best-performing title and makes necessary adjustments.
To access Tag Tester, navigate to the "On-Page SEO" menu from the NicheIQ dashboard and click on "Get Started" in the Tag Tester section. Setting up a tag test involves creating an experiment group, selecting a test option from popular pages, searching by URL, or importing from a CSV list of URLs, and creating trials for each experiment.
The testing process follows five main stages: starting the trial, replacing tags on the page, waiting for Google to index the page, gathering metrics, and calculating final metrics to determine the winner. Trials are conducted sequentially, not simultaneously, with each title tested for about a week. The trial begins once Google Index has confirmed the correct page version.
The AI system takes one to two weeks to complete testing, assessing metrics such as page views, sessions, bounce rate, CTR, and average search result ranking in Google Search. The winning title tag is determined through an intelligent scoring system that analyzes these metrics. The title with the best "total score" is automatically displayed as the title of the selected URL.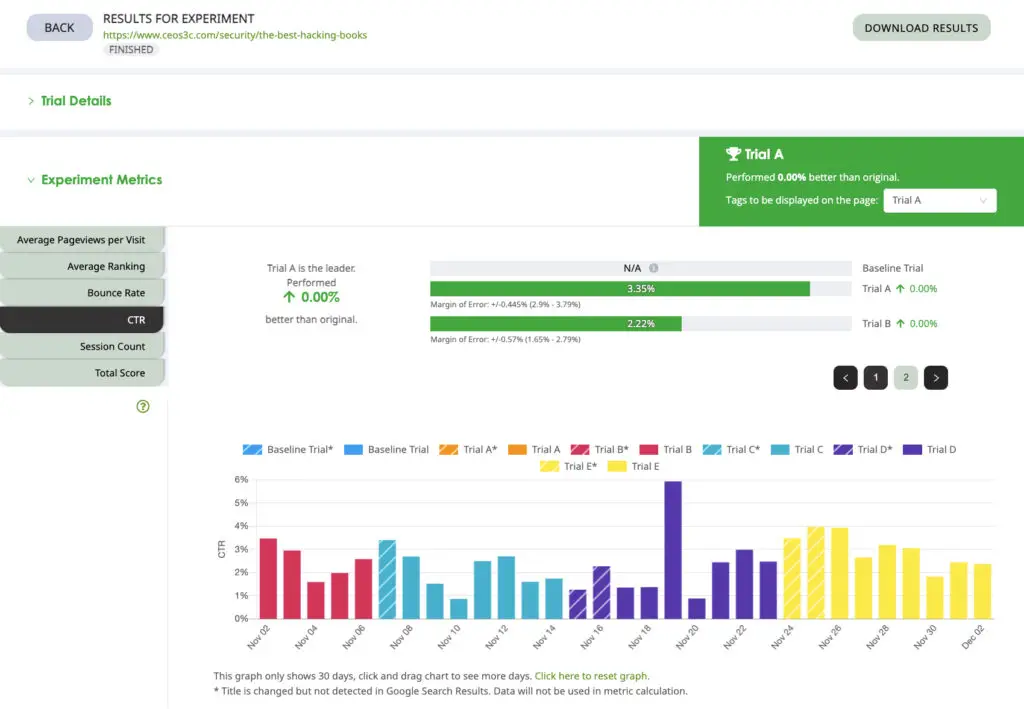 For guidance on crafting effective title tags for SEO, you can refer to the blog article on title tags available on the Ezoic website.
Broken Links Tool
NicheIQ's Broken Links tool is a handy resource that automatically detects and reports on website and page errors from the past seven days. It allows you to focus on resolving active and current issues that might be affecting your traffic and revenue. This tool provides vital information about error pages or "deadends" on your site, so you can correct these issues, improve the user experience, and enhance your SEO performance.
Access the Broken Links tool via the "Site Health" menu on the NicheIQ dashboard. Ensure that it is enabled for data to start appearing, which may take up to 24 hours.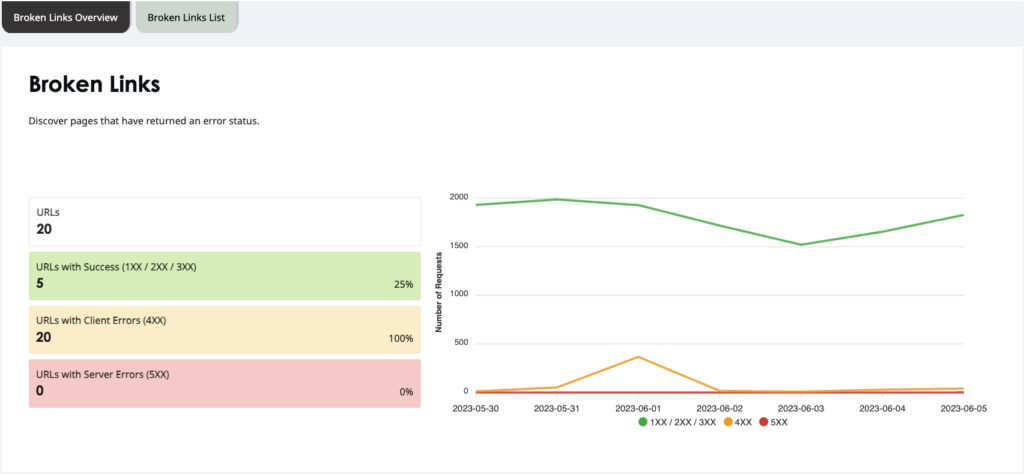 Broken links are pages that return an error status, otherwise known as HTTP status codes. NicheIQ will report on status codes ranging from 1xx (Informational) to 5xx (Server Errors). These codes are triggered by various scenarios, including coding errors, invalid request parameters, unauthorized user credentials, and server issues such as timeouts or overload.
NicheIQ pulls information from pageviews to find server errors and broken links. It conducts an automatic SEO audit and validation, detecting current errors from the past seven days.
Broken links can affect user experience, organic traffic, and your site's search engine ranking. They may also cause your page to be removed from search results. Two types of common errors are 4xx-level errors, which occur when a requested page no longer exists, and 5xx-level errors, which occur when there is a server problem preventing the page from loading.
The Broken Links tool provides an overview of reported errors, including how many errors were found, the type of errors, and their frequency. The dashboard displays grouped totals by status code type, a line graph for date-specific counts, and a list of all URLs that have returned a status.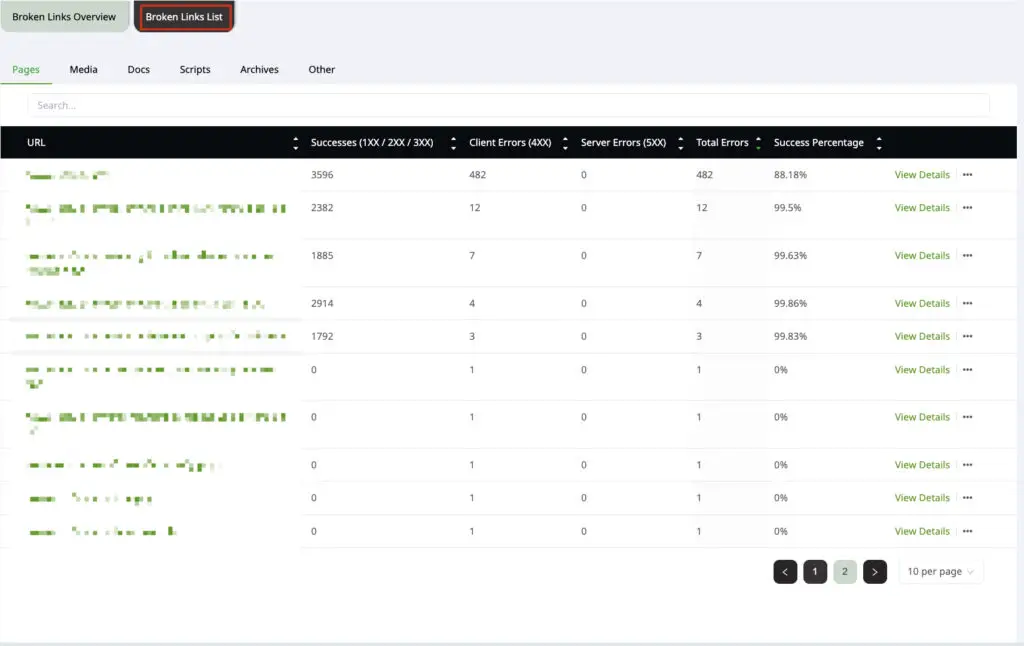 To use the Broken Links tool effectively:
Identify URLs with the largest reported count of errors.
Check if the errors occurred recently.
Investigate and fix the errors.
For 4xx-level errors, check for typos in the URL, ensure the URL links to the right page, clear cookies, and cache, and try a browser search to discover if the page has a new URL.
For 5xx-level errors, retry the request, try again later in the day, or check your hosting service.
Uncovering and resolving technical SEO problems are crucial steps in improving user experience and your site's content ranking on search engines.
Page Booster
Page Booster is an innovative application developed as part of the NicheIQ suite to help web content creators and digital marketers maintain their website visibility and traffic. It serves as a dynamic and intelligent tool to monitor your website's performance, especially focusing on pages that are experiencing a decline in search traffic.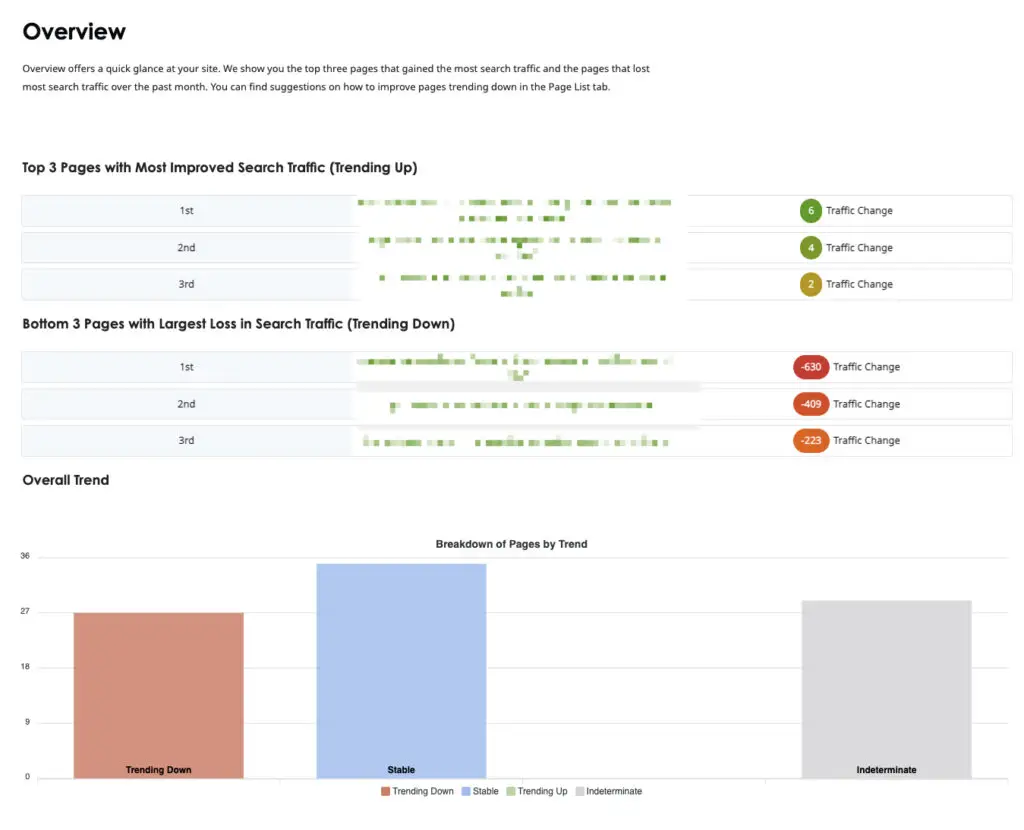 Understanding which pages are losing momentum can be a challenging and time-consuming task, but with Page Booster, this process is simplified and automated. The tool continually tracks all the pages on your website, identifying their current trends – whether they are stable, trending up, or trending down. In the case of pages that show a downward trend, Page Booster springs into action, providing a list of keywords that are losing search traffic. This data can then be used to enhance your articles and regain the lost position in search results. Reports on this data are generated on a weekly basis, keeping you updated on your site's performance.
Page Booster features two main tabs: the Overview tab and the Page List tab. The Overview tab gives a holistic view of your website's performance, summarizing the overall health and trends. The Page List tab, on the other hand, delves into the specifics of each page. It includes details like the page's current status and suggested keywords that can be used to improve the article based on search trends.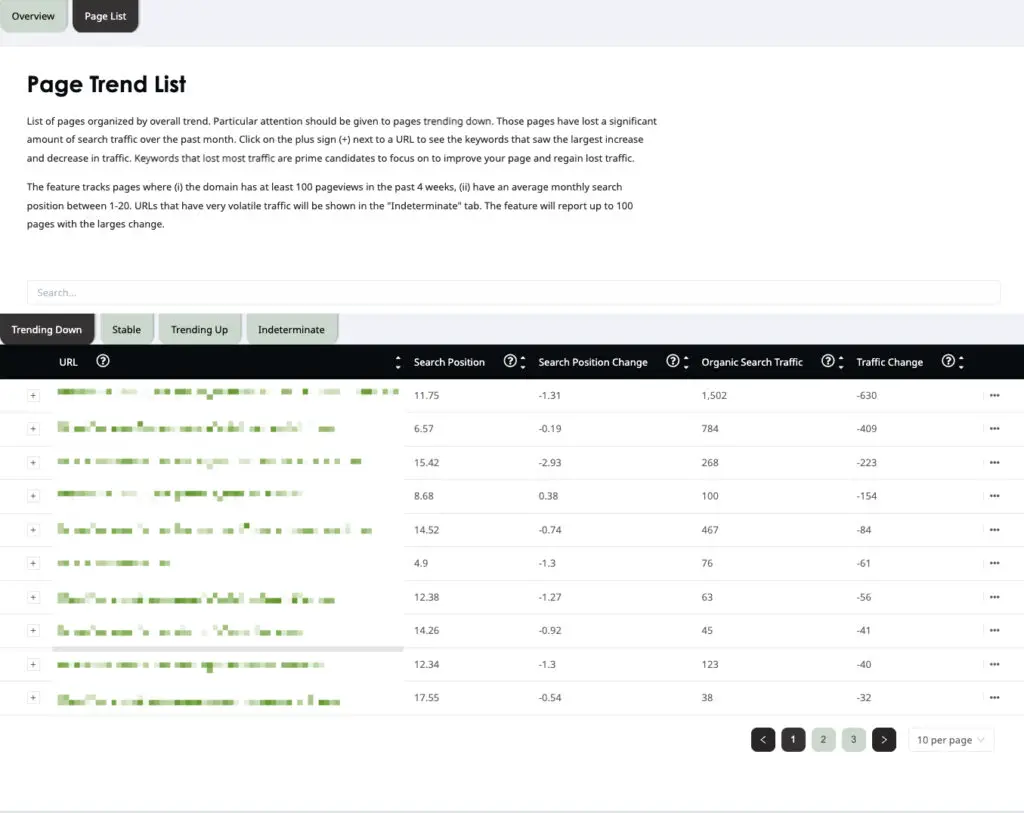 To utilize Page Booster to its fullest potential, Google Search Console must be authorized in the Settings section. This connection allows Page Booster to pull accurate and comprehensive data directly from Google, ensuring the suggestions and reports it generates are precise and reliable.

In a nutshell, Page Booster acts as your vigilant assistant, monitoring your website's performance and aiding in proactive strategy formulation to reclaim lost traffic and improve search result rankings. By leveraging this tool, you can ensure that your website remains competitive and continues to engage and attract your target audience effectively.
How to access NicheIQ
NicheIQ is currently an exclusive feature for Ezoic account holders. To access this suite of tools, simply log in to your Ezoic dashboard and click "NicheIQ" from the top navigation bar. For initial access, click "Turn On" and then navigate to the features you wish to enable from the left menu. Note that certain features may take between 24 hours and four days to collect data.
To maximize the benefits of NicheIQ's Topic Suggestions, it's recommended to link your Google Search Console with the tool. By doing so, NicheIQ can optimize the suggested topics, tailoring them to your specific domain. To authorize this link, navigate to the Settings menu and click "Authorize." This provides NicheIQ with the necessary information to give you the most accurate and beneficial topic suggestions.
Conclusion
In conclusion, NicheIQ by Ezoic provides an innovative and comprehensive suite of SEO tools that streamline and simplify the complexities of website optimization and content creation. Its features – Topic Suggestions, Tag Tester, Broken Links Tool, and Page Booster – work collaboratively to boost website visibility, enhance user experience, and improve search engine rankings, all while providing crucial insights for ongoing strategy development.
From automatic topic generation to intelligent testing of title tags and detection of broken links to monitoring web pages' performance, NicheIQ provides a holistic solution for web content creators and digital marketers.
As digital marketing continues to evolve, leveraging tools like NicheIQ will become increasingly important to maintaining a competitive edge and achieving success in the online landscape. While the platform currently serves Ezoic account holders, its expansive capabilities showcase its potential as a future industry standard for SEO optimization.
We use NicheIQ on a daily basis, and it has been tremendously helpful in discovering new topics that our readers are interested in. The Tag Tester also has been very helpful in identifying better headlines for our best-performing articles. We will continue to use NicheIQ.
If you want to give it a try, sign up with Ezoic, it's free.