I am excited to give you this new tutorial on Synology NAS to Glacier Backup – The Ultimate Guide. Read on!In the previous tutorials we were playing around with creating our first share, integrating our NAS into the Domain and now, to round the whole thing up, we will cover backing up our files to Amazon's incredible cheap Glacier.
I'm doing this in my business environment, but I have to honestly say, I am so excited about how easy and cheap this is, that I will also implement this kind of Backup into my professional Photography environment at home. So far I just backed all my images up to an external Hard Drive ( Next to my Raid Z1 NAS), but this is really so dirt cheap that I will automate the whole process into Glacier.
Enough talk, let's get our hands dirty.
Installing the Glacier Backup App on your Synology NAS
First, you need to log in to your Synology NAS and click on Package Manager which you find under Control Panel or on your Desktop.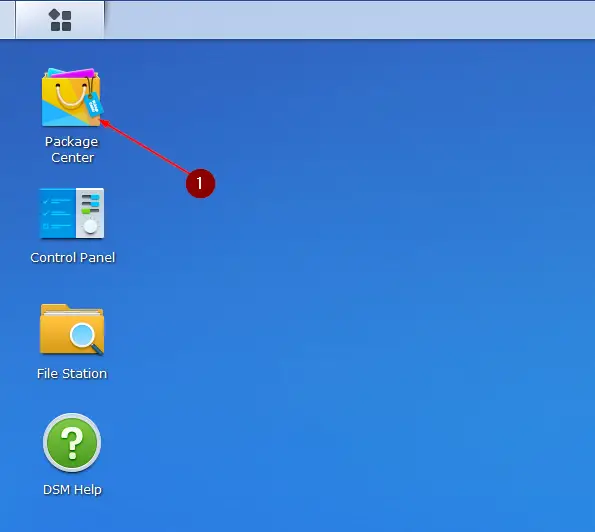 Navigate to Backup and Install Glacier Backup from Synology Inc. Or find it by typing Glacier into the Search bar on the upper left corner.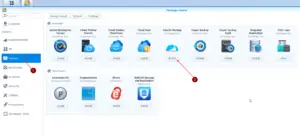 After the installation is finished, Open Glacier Backup, click on Backup, Click on Action and hit Create.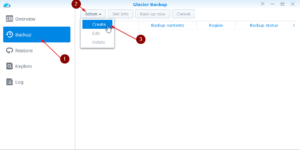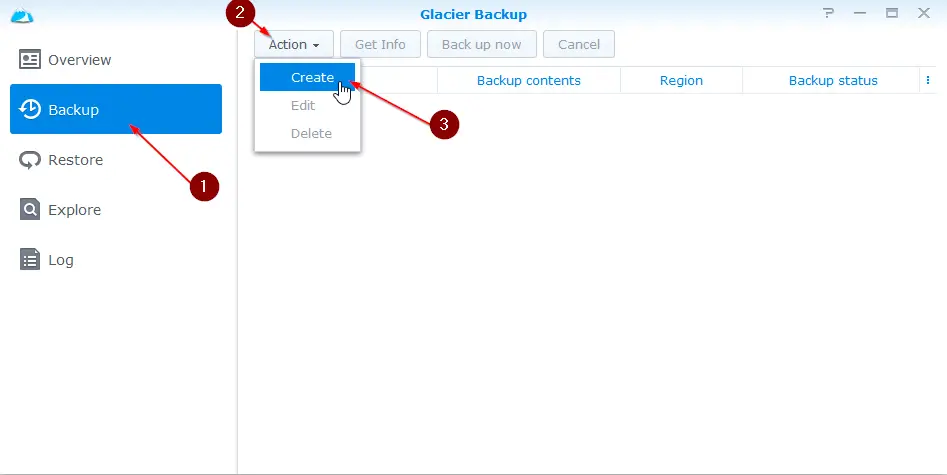 Give your Task a descriptive Name and Agree on the Conditions above. Hit Next.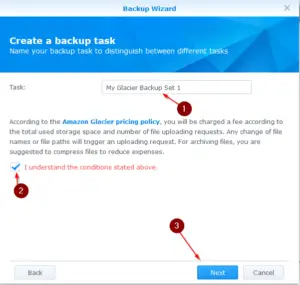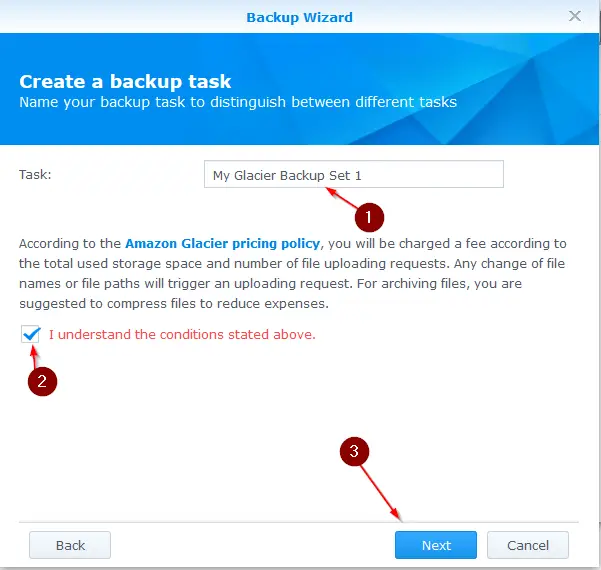 Creating an IAM User for our Synology NAS
Now you need to head over to Amazon AWS and log into your Management Console.
Once that is done, Navigate to Services / IAM, click on Users and click on Add User.
We do not want to use our Admin Account with permissions to everything for our Synology NAS but want to create a new one who has only full access to Amazon Glacier


.
Give your User a Name (Synology is just fine) and as Access Type check Programmatic Access because we do need an Access Key ID and Secret Access Key.


Click on Create Group.


Now scroll down until you find AmazonGlacierFullAccess and tick that point. Click Create Group next.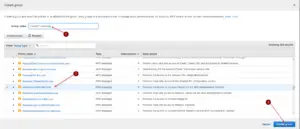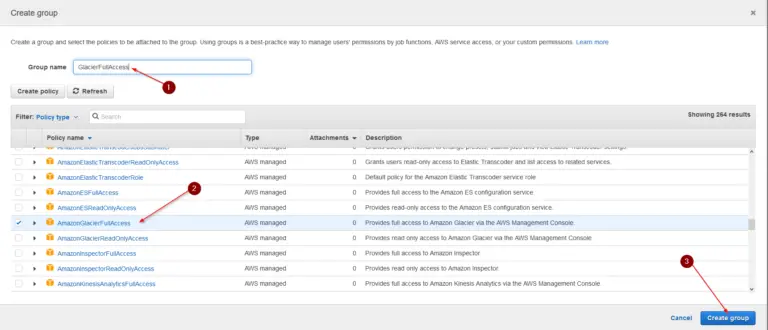 Check GlacierFullAccess for our User and click on Next: Review.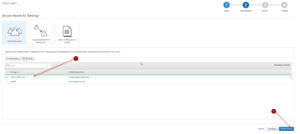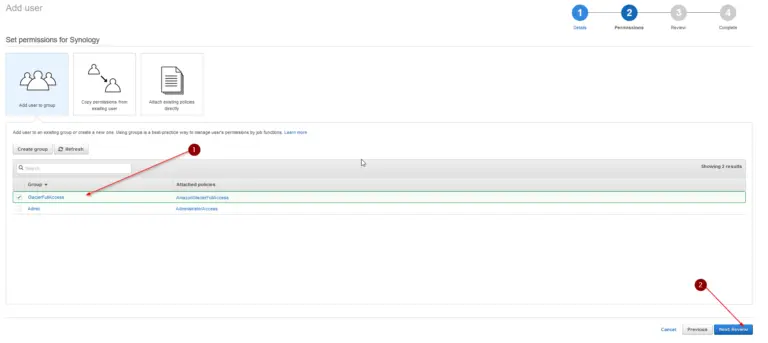 Double check if everything went right and hit Create User.


Now NOTE down your Access Key ID and your Secret Access Key. This will be the only time this information will be shown to you. If you don't have it written down somewhere, you need to create a new access key later.
Click on Close


Back to our Synology NAS and finalizing the Backup
Now head back to your Synology NAS and enter the Access Key and Secret Key you just created for your Synology User. Select the correct Region.
Check Enable transfer encryption if you want and choose how big each Upload Part should be. I'll stay with 512MB as this is a good size for my internet connection.
If you have a very slow internet connection you might want to decrease it.
Click Next.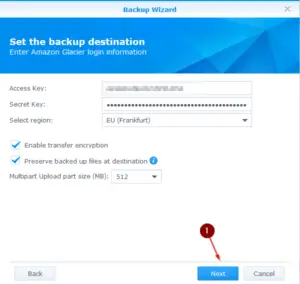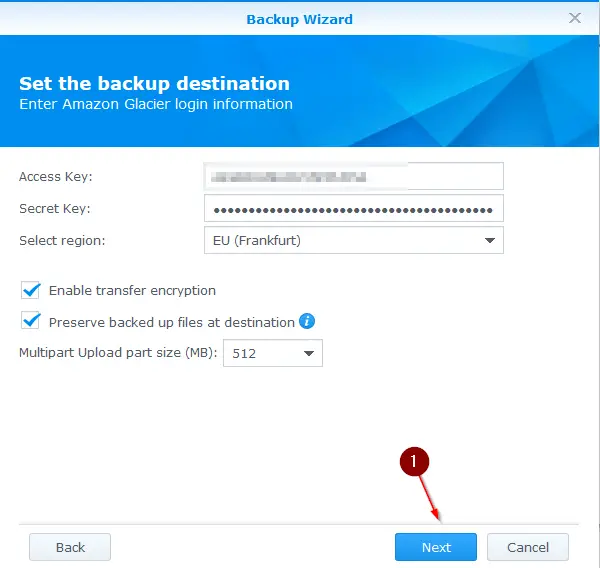 Now select what you want to Back Up. If you want to Back Up everything, just tick Shared Folder. Click on Next.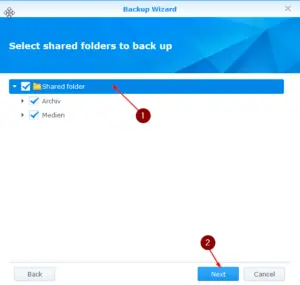 Next, you have to select a Schedule. This backup will run fully once and incremental after. That means, it first shovels everything you selected onto Glacier. After this first huge backup, it will then just add files that are new or delete files that were deleted. It's called incremental. You can look that up if you want.
I went for Advanced Schedule because I want the backup to run every day at 22:00. You can adjust this however you want.
Check Back up immediately after the wizard finished if you want to start the backup process right away.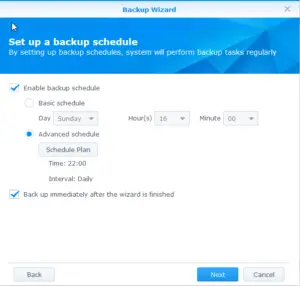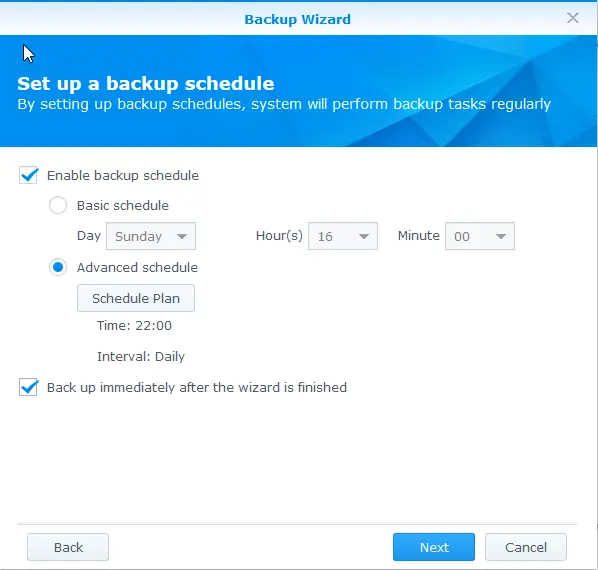 Review your settings and check if everything is to your liking. Click Apply.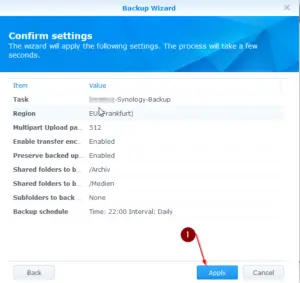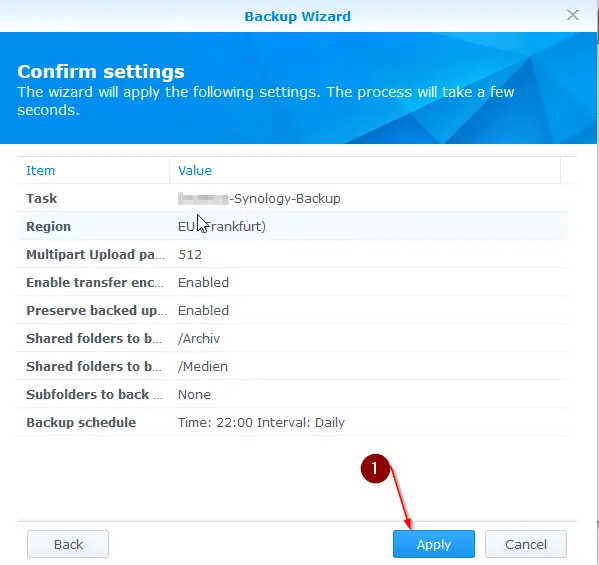 Finalizing and checking the Status of your Backups
To check the progress of the Upload you can open Glacier Backup on your Synology NAS and click on Backup. On the right-hand side, you will see Backup Status which shows you how much is already uploaded and how much is left.
On Overview, you can also see that it's backing up right now.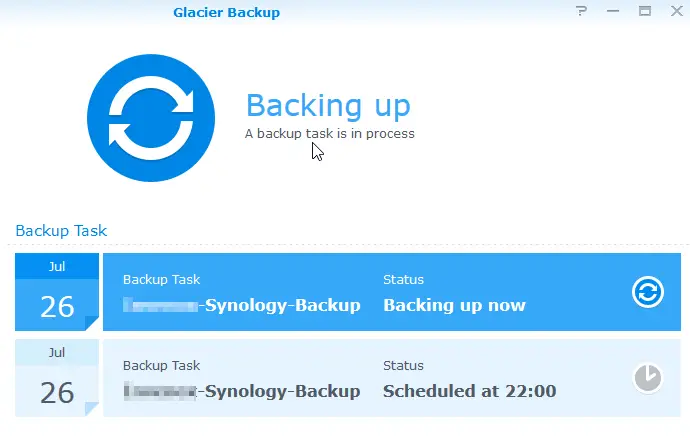 That's it. Within a few minutes, you set up a complete Backup Schedule from your Synology NAS to Amazon's Glacier.
Final Words
I really love how easy this is. It completely takes out my interaction with the whole backup process. I just need to check everything is still running once in a while. I am surprised at how easy to use this App is, considering the whole AWS Behemoth is fairly complicated.
Props to Synology for making it so easy.
I hope that helps. If it does, consider becoming a Patron so I will be able to produce more of the good stuff 🙂
Grab your DS 716+ II and your Hard Drives from the links below to help me keep them Articles coming!