In this article, you learn how to install integration services on Kali Linux with Hyper-V and how to change the screen resolution. It is a fairly straight-forward process, I'll guide you through each step. I run into this issue myself and had to do a fair bit of research to get it resolved.
Install Integration Services on Kali Linux
In Kali, open a Terminal and type
sudo nano /etc/initramfs-tools/modules
Enter the following lines on the bottom of the file
hv_vmbus
hv_storvsc
hv_blkvsc
hv_netvsc
So your file looks like this: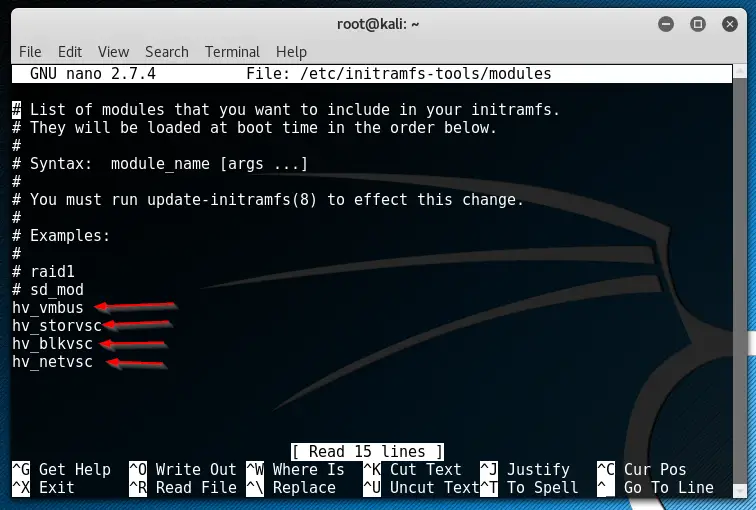 Hit ctrl+x and confirm with Y to safe.
Updating initframs
Again, back in the Terminal type:
sudo update-initramfs -u
Rebooting
After that's done, reboot your system, integration services should now be successfully installed.
sudo reboot now
Changing the Screen Resolution
Now I didn't find an easy way to adjust the screen resolution like in VirtualBox or Vmware. We have to edit the grub config file for this.
sudo nano /etc/default/grub
Now find the line GRUB_CMDLINE_LINUX_DEFAULT and add video=hyperv_fb:1920×1080(or whatever resolution you want) to it. The line should look like this after.
GRUB_CMDLINE_LINUX_DEFAULT="quiet splash video=hyperv_fb:1920x1080"
Done with that, enter:
sudo update-grub
And reboot your machine. You should now have the desired resolution.
Conclusion
In the end, I ditched Hyper-V for VirtualBox. It's just too much hassle to deal with all the issues. I also found that Kali is running way more stable on VirtualBox. Also, even VMWare does a much better job. It took me ages to even get Hyper-V to run, it's just not as intuitive as the other options. So if you have to use Hyper-V out of whatever reason, give it a try, but I wouldn't recommend it. If you want to learn how to install Kali on VirtualBox, check out my tutorial on it.
I hope that helps.