In this article, I will show you the easiest way how to Configure pfSense OpenVPN on Linux Client. In this example, we will use Linux Mint. There are a couple of Tutorials out there on how to Configure pfSense OpenVPN on a Linux Client, but I found them to be unnecessary and long. I show you the easy way.
⚠️ If you would like to learn more about pfSense, I highly recommend you check out my pfSense Fundamentals Bootcamp over at Udemy. This is the most up-to-date as well as the highest-rated pfSense course on Udemy.
Step 1 – Configure OpenVPN on Pfsense
First, of course, you need to have your OpenVPN Configuration in place. To learn how to Configure OpenVPN on pfSense, check out this article. This Article takes you through the Process, Step By Step.
Step 2 – Export the OpenVPN Config Files
Log in to your pfSense Firewall to export the pfSense OpenVPN Configuration Files. Navigate to VPN / OpenVPN / Client Export. Scroll down until you find OpenVPN Clients and download the Viscosity Bundle.
After downloading the bundle, go to your Downloads folder and right-click the Zip file. Select Extract Here…
Step 3 – Configure pfSense OpenVPN on Linux Client
Now it's time to create a VPN Connection in Linux Mint and Import our Configuration File. On Mint, left-click on the Network Symbol in the lower right corner. Choose Network Connections. Click on the + on the lower left corner of the new Window and select Import a Saved VPN configuration and hit Create.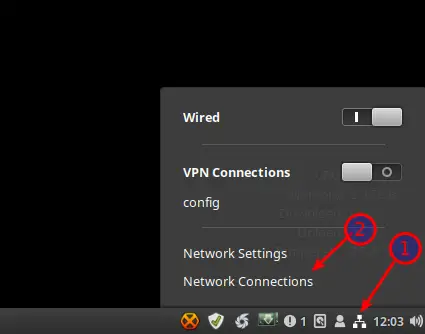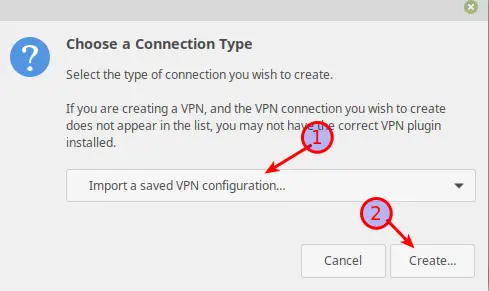 Navigate to your Downloads Folder and select the extracted Viscosity.visc folder. In there, select the config.conf. After you selected the file, enter your Username and Password and click on Save.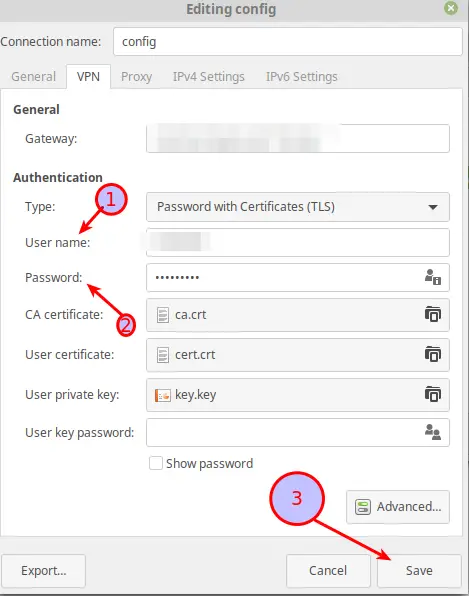 Everything should have been set up correctly from the config file. You shouldn't need to adjust any other settings.
Step 4 – Enable the VPN Connection
Your last step is simply clicking on the Network Symbol in the lower right corner again and enabling the VPN Connection you just set up. This should successfully connect your OpenVPN connection.