Kali Linux 2020.1 was just released yesterday. There are a lot of new features that come with Kali 2020.1, one of them being the deprecated default user root/toor. Kali now ships with a new default user that is kali/kali. I made a video yesterday on all the new features, check it out for an overview. As on every new Kali release, I get requests to make an up-to-date step-by-step tutorial for you guys. And here it is, how to install Kali Linux 2020.1 on VirtualBox.
Step 1 - Download & Install VirtualBox + VirtualBox Extension Pack
Go to VirtualBox to download both, the latest version of VirtualBox and the VirtualBox Extension Pack. You need both for Kali to work perfectly. Once you have downloaded both files, first install VirtualBox, leaving everything on default. Once it's finished, install the Extension Pack.
Step 2 - Download the Kali VirtualBox Image
So there are two ways to go about the installation. The first option is to download the actual installer image and go through the manual installation. The second option is downloading the pre-configured Kali Linux VirtualBox file that Kali provides for us. Because the second option is much easier for most users, we are going to opt for that.
Note that if you don't want XFCE as your default Desktop Environment, you need to install Kali the manual way, where you can choose which DE you want to use during installation.
Go to the Kali website, extend Kali Linux Virtualbox Images and select the appropriate version. If you are not sure, use the 64bit version.

Step 3 - Importing the Kali Image to VirtualBox
To install Kali Linux 2020.1 on VirtualBox, we now need to import the downloaded file to VirtualBox.
Open VirtualBox -> Click on File -> Import Appliance. Navigate to your Downloads folder and select the kali-linux-2020.1-vbox-amd64 file. Click on Open. Click on Next.
Check if all settings are fine. If you want you can change the location where the virtual hard disk will be stored by changing the Machine Base Folder (indicated by 1).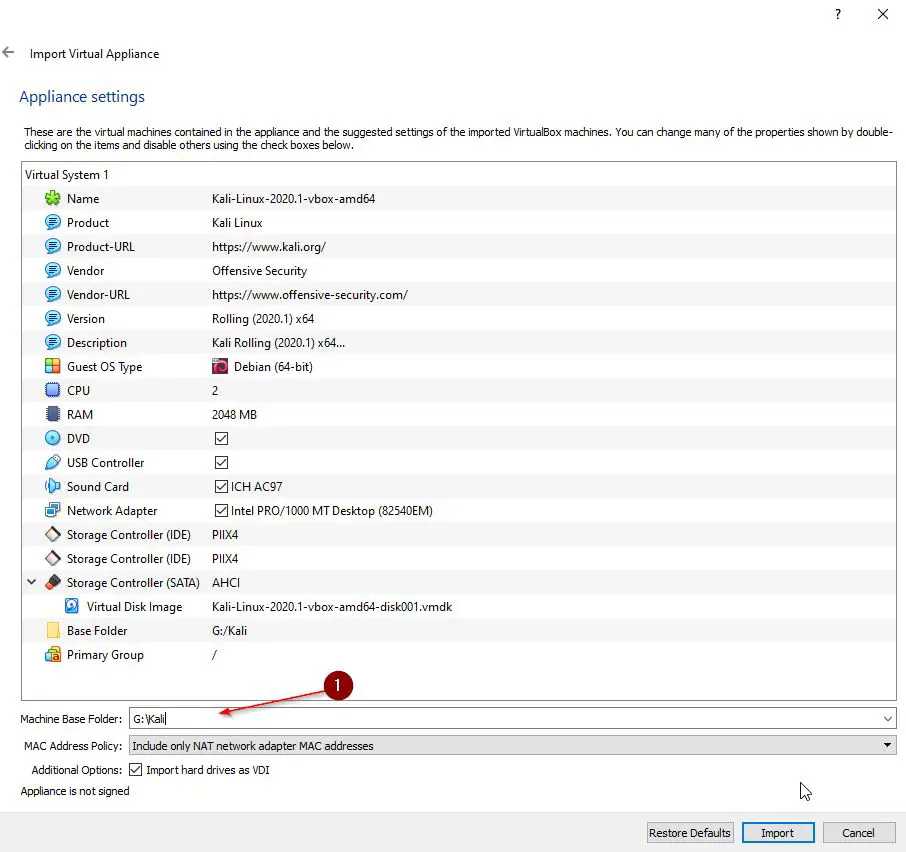 Click on Import if everything seems fine. This takes a couple of minutes to finish.
Step 4 - Configuring VM Settings
Now that you have successfully imported the Kali Image, you can just start it as it is or modify the settings to your liking. Right-click the Kali VM in VirtualBox and select Settings. Head to the System tab to adjust things like memory and processor cores. Always stay in the green area when assigning resources, so your host operating system doesn't run low.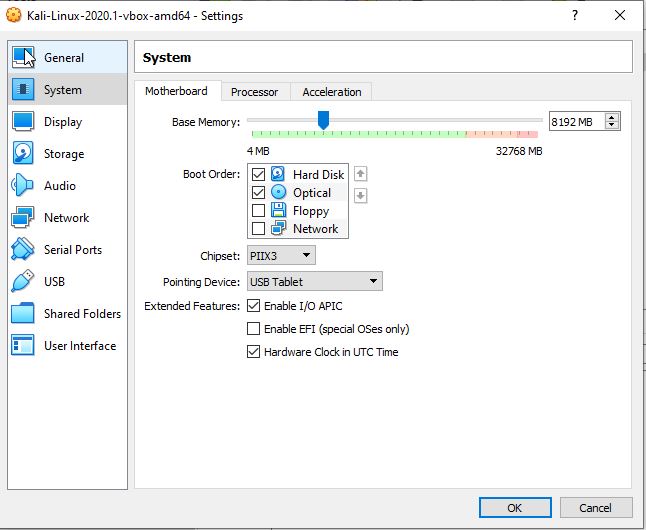 Once you have set everything to your liking, hit OK.
Step 5 - Starting Kali 2020.1
Now we are ready for our first boot. Right-click your Kali VM and select Start -> Normal Start.
Login with the new default user kali/kali.
VirtualBox Guest Additions are pre-installed. Your window will eventually appear not in fullscreen. If that's the case, just make your actual VirtualBox Window smaller and then extend it back to full-size, that should fix the issue.
Once you are logged in, open a terminal to update & upgrade Kali to make sure to be on the latest version. Enter kali as the password when being asked. Confirm every upcoming question with Y for Yes.
sudo apt update && sudo apt upgrade -y

Step 6 - Changing the default password
The last step is changing the default password. This is very important, don't leave it as kali.
To change this, simply type
passwd
Now we also need to change your root password, which is also kali. To do this, run the following.
Code language:

 

PHP

 

(

php

)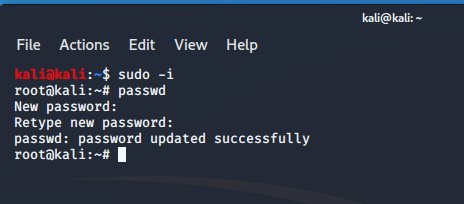 Step 7 - Optional: Changing the Keyboard layout
You might want to change the keyboard layout, to do this, simply open the menu and type keyboard. Open the keyboard options, click on Layout, untick the "Use system defaults" box. Add the desired layout, remove the default layout. This should do the trick.
In case of problems
In case you experience graphical glitches, like your screen flickering or something like that, I have a fix for you. I experienced this behavior with Kali 2019.4, gladly so far in 2020.1, I haven't seen it. However, if you do experience problems, shut down your Kali VM, right-click it and select Display.
Here, change the Graphics Controller from VMSVGA to VBoxVGA. This did the trick for me on Kali 2019.4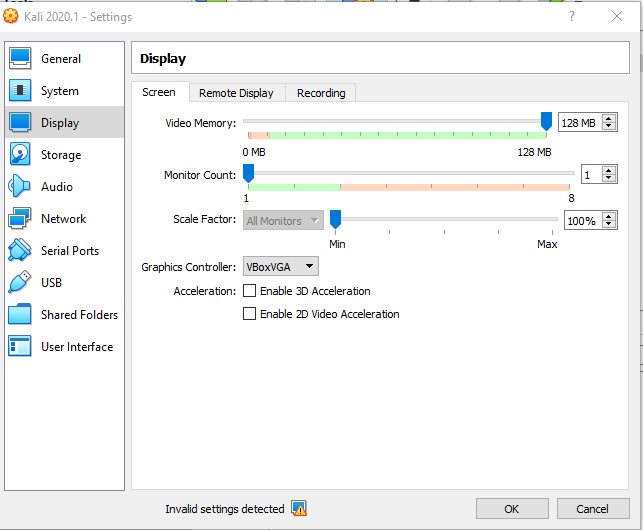 Conclusion & Where to go from here
Congratulations, you have successfully installed Kali Linux 2020.1 on VirtualBox. That is definitely the easiest way to do this. If you don't know where to go from here, I highly recommend my Top Things to do after Installing Kali Linux article that is constantly updated. Also, it's worthwhile to check out the Hacking Books article if you want to take your study even further.