Welcome back, everyone! Google just released it's Auto Ads feature for the general public and I am going to show you how to add Adsense Auto Ads to WordPress. In this easy to follow the step-by-step tutorial I'll guide you through each step, no coding needed, promised.
As of late February 2018, Google made their Auto Ads feature available for everyone who already has an Adsense Account. I have read some stories that you already need to have a certain income to be able to use their Auto Ads feature, but I don't know exactly how that is measured. I have only very little income and it was available to me.
The Google Adsense Auto Ads feature is using Machine Learning and A.I. to place ads intelligently on your Website. This is cool because if you are accustomed to the AdInserter Plugin for WordPress, you know that you can place ads on your page manually and that you specify exactly where to place them, how many of them to place and also how to deal with articles that don't have that many words. Do you want to bombard them with Ads, creating a shitty experience for your reader? Most likely not.
And this is exactly where Adsense Auto Ads comes into play. It is still very new and most likely far from perfect, but so far it handled ad placement pretty well for me. It avoids placing too many Ads in articles that have just a few words. I am definitely excited to see where this goes in the future. I will also track how it impacts my revenue.
Alright, enough of the theory, let's get to work. If you already have Adsense Ads placed on your Website, Adsense Auto Ads will automatically recognize them and replace them with its own Ads. Although this sounds easy, I disabled all my manually placed Ads before using Auto Ads.
My Adsense Account is in German, so don't mind the German in the Screenshots. I will explain the Menu Names in English, the structure will be exactly the same.
Step 1

Enabling Google Auto Ads

Log in to your Adsense Account and Navigate to My Ads -> Content -> Auto Ads. Then click on Get Started.


Now choose which kind of Ads you wish to implement. I choose all of them as I want to see how they perform.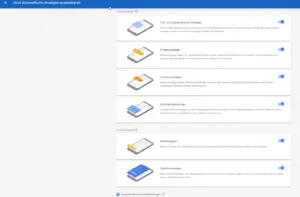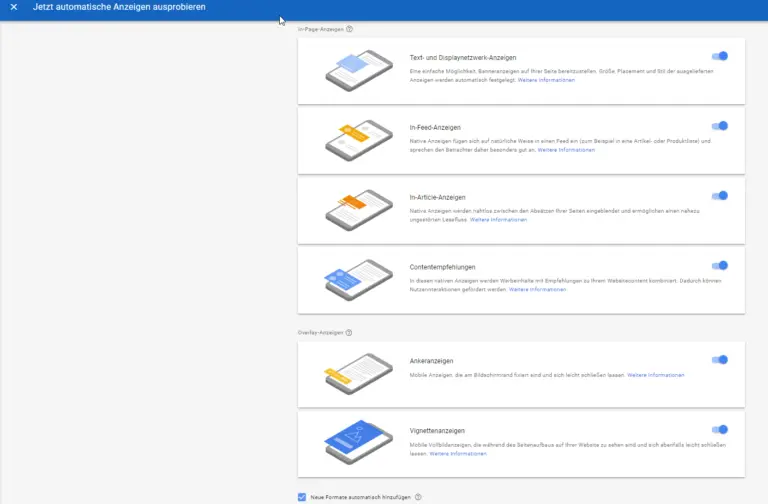 After clicking Next, you can actually go ahead without copying the Code, because we will utilize Advanced Ads Plugin to implement the Code and this will be automatically done via your Adsense PUB-ID. Click on Finish.
Step 2

Installing the Advanced Ads Plugin

Alright, log in to your WordPress Dashboard and click on Plugins -> Add New.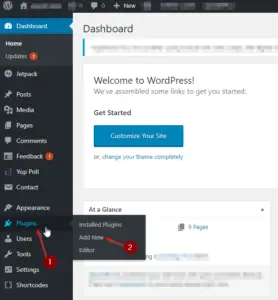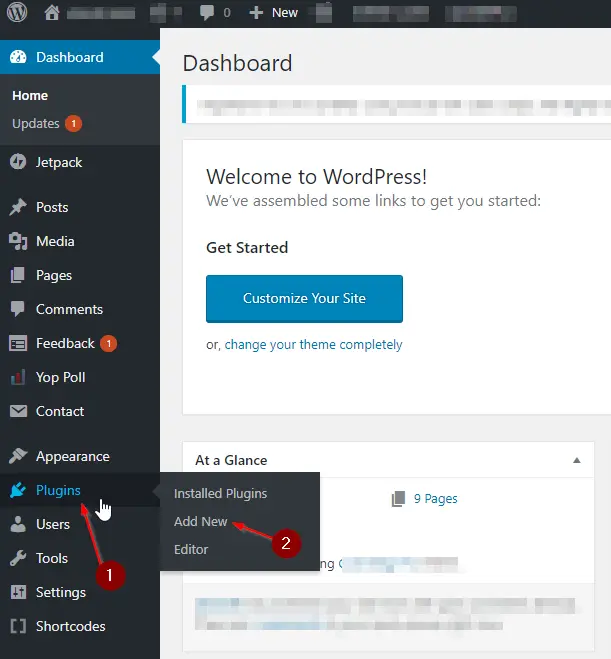 Now type "Advanced Ads" in the Search Bar and click on Install Now.


After the installation is finished, click on Activate.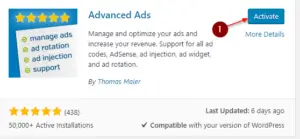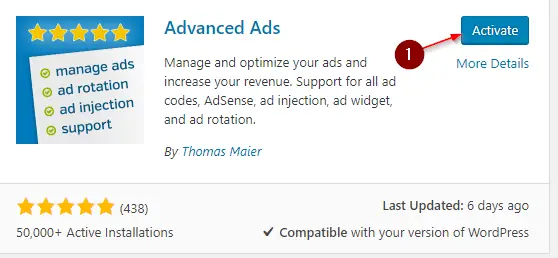 Step 3

Configuring the Advanced Ads Plugin

Now go back to your Adsense Account and Navigate to Settings -> Account -> Account Information.

Copy your Publisher-ID.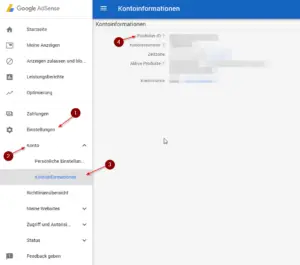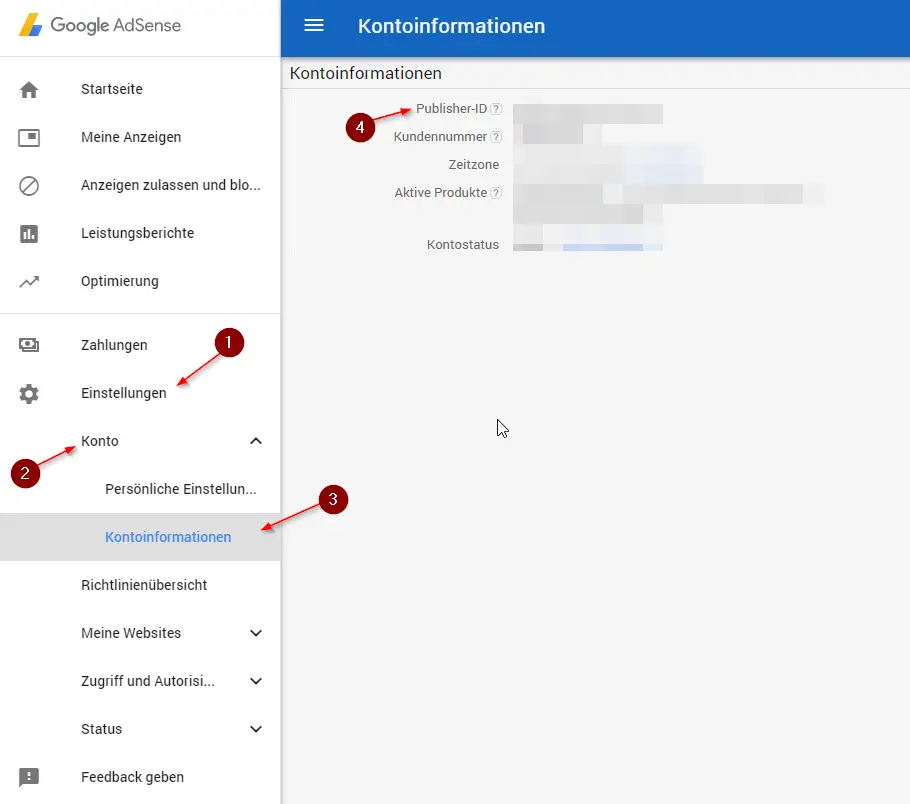 Back to your WordPress Dashboard. Now click on Advanced Ads in the Sidebar and select Settings.
On top where it says Adsense ID, paste in your Publisher ID. Also, check Verification code & Auto Ads. Finally hit Save settings.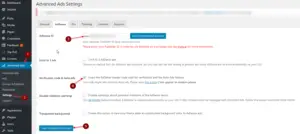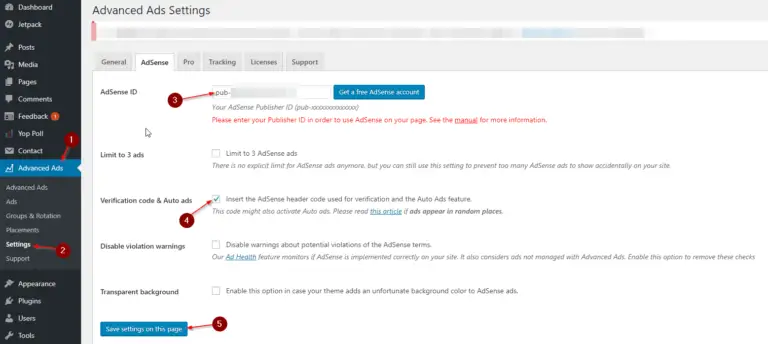 Now you are basically done. Auto Ads will now populate your Website within 24-48 Hours.
If you are like me tho and don't want to place Ads on your Landing Page or Home Page, we will have to take an additional step and create a URL Group to exclude it from Auto Ads.
Step 4

Excluding the Homepage from AutoAds

Head back to your Adsense Dashboard and once again click on My Ads -> Content -> Auto Ads.

Now you will see the Option "New URL Group". Click on it.


Next, choose the Domain you want to work with. Click on Next.
Now, you need to DESELECT the Ads you want to exclude from your Website. In the screenshot below all Ads are still enabled. You should disable them, or just leave the ones enabled you to want to display on your Homepage. Click on Next.
EDIT on 10.03.2018: This method didn't work for me in the end. When I exclude the ads, they disappear from everywhere, not only the front page. I guess we have to wait for an Auto Ads or Plugin Update…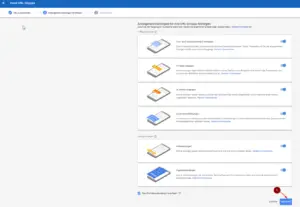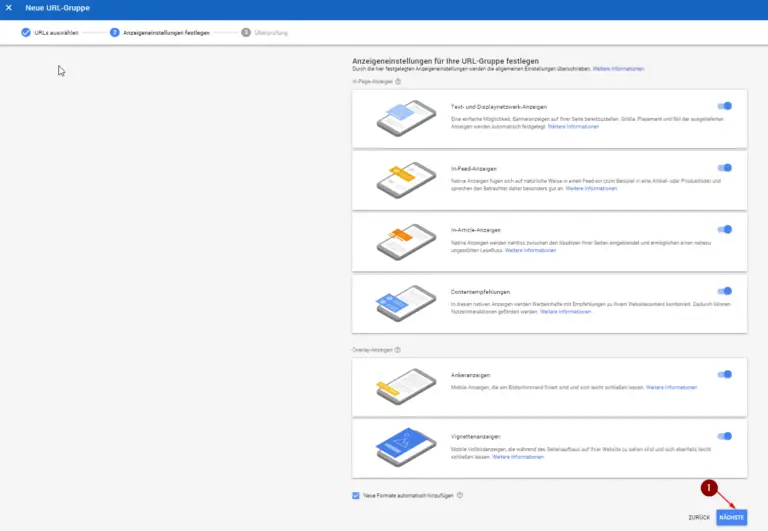 Finally, select a descriptive name for the Ad Group and click on Save.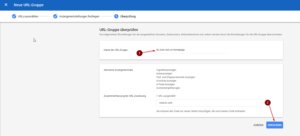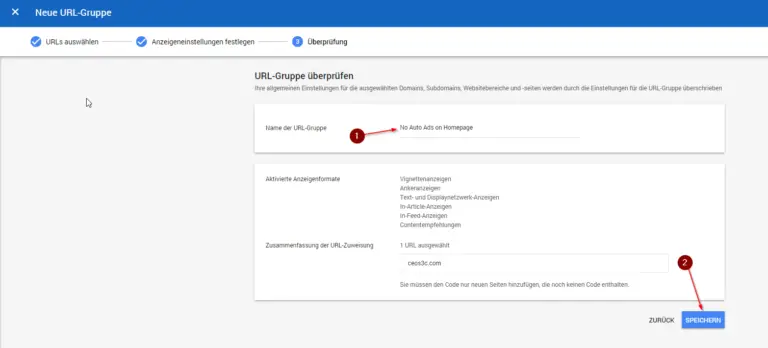 And there you have it. I am still in the evaluation phase myself and can't exactly report on if I like it or not, but I will definitely write a follow up once I have some more experience with it. I really like the Idea of clever Ad Placement, giving me more time to focus on content creation.
Let me know in the comments how your experience with Adsense Auto Ads is!