How to transfer XRP to a Ledger Nano S
A quick walk-through on how to transfer XRP to a Ledger Nano S. Some of you had problems transferring Ripple to your Ledger, so I decided to make a really short tutorial on it.
It's a bit different with Ripple to transfer it, instead of having a Hex Code like most currencies, Ripple uses a different kind of address and it also works with Labels and Tags. That might be confusing to some of you so let's clarify things a bit.
In this example we Transfer XRP from Binance to a Ledger Nano S.
If you don't have a Ledger yet, I recommend buying one from their website directly, as it is overpriced on Amazon. You can use the link above to buy it.
1. Install the Ledger Wallet Ripple
First, you need to download and install the official Ripple Wallet from the Ledger website.
Make also sure you have the Ripple App installed on your Ledger itself. You can do that using the Ledger Manager.
Be aware that you can only have 5 apps installed on your Ledger at a time.
Open your Ripple Wallet now and connect & unlock your Ledger via Pin.
You should see something like this: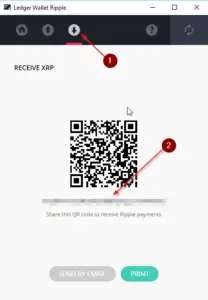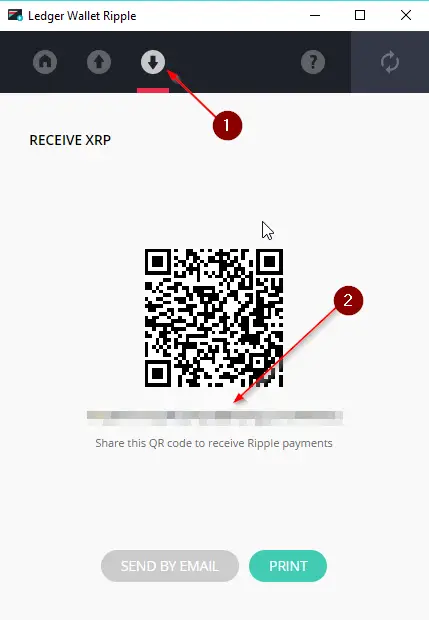 1. Click on Receive
2. Copy your Wallet Address
2. Transferring Ripple
Log in to the exchange where you Ripple resides. For this example we use Binance.
You can check out my guide on how to buy Ripple on Binance if you need help, too.
Navigate to where your wallets are and click on Withdrawal.

Now we need to fill in the blanks, I will run you through each number:
1. This is the Label, it's something like a reference in classical banking, so you can enter what you want. Ledger for example.
2. Paste your Ripple Wallet address here! Tripple check if it's correct.
3. Enter the amount of Ripple you want to send. I recommend first sending the minimum amount, you can see what the minimum amount is highlighted in yellow at the time of writing. This may vary. After you sent the minimum amount and confirmed that it arrived in your wallet, send the rest. Another layer of security.
4. Click on Submit and enter your 2FA code and confirm your Email if necessary.
5. Make sure to tick "NO TAG" you don't need a Tag for your Ledger Ripple Wallet (yet). If you need a Tag, it would be written next to your Wallet address.


And that's it. Easy enough once you understood what a Label and a Tag is.
The Ripple usually arrives within a few minutes, depending on the network load at the moment of transfer. You can check your status on withdrawal history.
Now you learned how to transfer XRP to a Ledger Nano S.
I hope that helps.
*Some of these links may be affiliate links, meaning if you click and purchase something,
I may receive a small commission at no additional cost to you. I only recommend companies and products I personally use,
and any commissions help to pay for content creation. Thanks!
* This article is no legal, financial or investment advice and any action taken is at the user's own discretion and
of their own responsibility. No loss or blame is accountable to the writer of this article. He is free from liability.