How to buy VEN(VeChain) – The easiest way in 2019!
A simple step by step guide on how to buy VEN(VeChain).
VEN or VeChain is rising in popularity quite a bit and if you still want to get a piece of the cake, I have the step by step guide on how to buy it.
VEN got especially popular in the past few days for partnering with the Healthcare Co. Ltd, making it skyrocket in price (with no end in sight).
1. Create a Coinbase account
The easiest way to get started is by creating a Coinbase account and buying some Bitcoin or Ethereum. You can follow my previous guide on how to do that.
At the time of writing this article, I recommend using Ethereum to avoid high BTC trade fees
After creating a Coinbase account, you can also create a GDAX account, which is a daughter firm of Coinbase, to save on some fees. Although I would recommend doing your first transaction using Coinbase, just to get a feel for it.
Once you are done with it, we continue to transfer this currency to an exchange.
2. Create a Binance account
Two of the most known and trusted exchanges are Binance and Bittrex. In this example, we are going to use Binance.
After you created your Binance account, the first thing you should do is to enable 2 Factor Authentication using Google Authenticator. You can set that up by clicking on your account settings. I highly recommend you do this FIRST.
3. Deposit funds
Now it's time to deposit funds. Navigate to Funds / Deposits Withdrawals: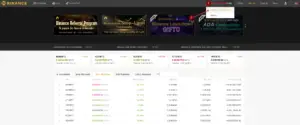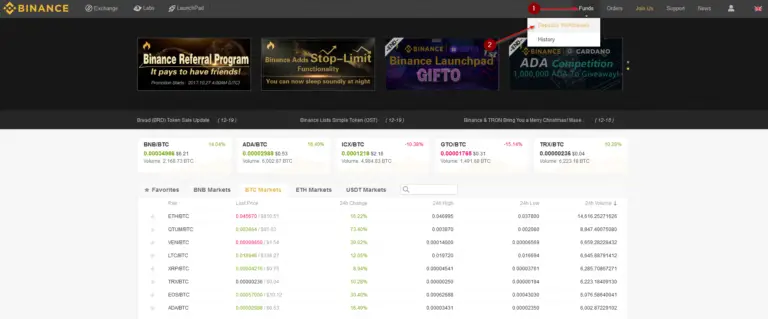 Now simply type ETH or BTC, depending on what currency you bought on Coinbase, into the search field and click on Deposit on the right side:


Once you click on Deposit, you will see your ETH address. Copy it by clicking on the Copy sign next to it:


Now you need to head back to Coinbase and send your Ethereum to this address. The process on Coinbase is self-explanatory.
Once all confirmations run through, you can now start buying altcoins on Binance. It can take a while according to how many transactions are going on at the moment, usually, you see the status of the transaction on Coinbase.
Tripple check if your ETH address is correct before sending. You can also first send a tiny amount of ETH to see if it arrives on your Binance Wallet.
4. How to buy VEN(VeChain)
Back on Binance, navigate to Deposits Withdrawals again and check Hide Zero Balances. You should now only see currencies where you have funds in, in our case, Ethereum should show up.
After all is to our liking, navigate to Exchange / Basic: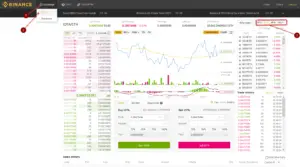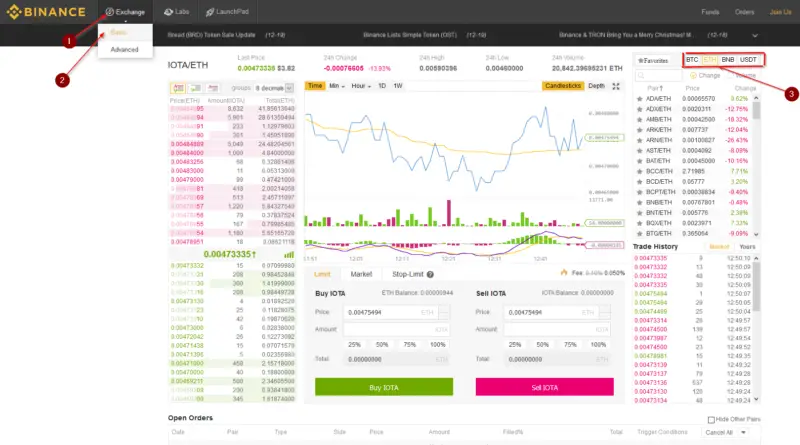 On number 3, choose the trading pair. In our case ETH, if you have Bitcoin, choose BTC.
Now enter the currency you want to buy in the Search Field indicated by the number 1. In this example, we use XRP for demonstration purposes. You simply enter VEN. Click on the trading pair indicated by number 2: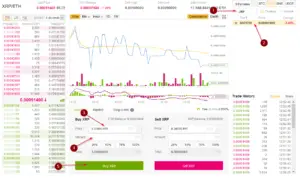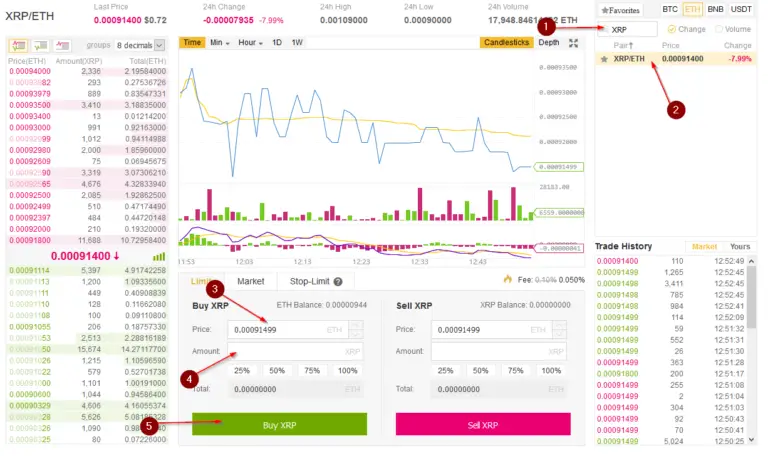 As an example, number 3 indicates the price for 1 XRP in ETH.
Number 4 lets you enter the amount of VEN that you want to buy. You can also click on the 25%, 50%, 75% or 100% buttons below to use a certain amount of your ETH for the purchase.
Number 5 buys the coin.
And this is it. You just learned how to buy altcoins, wasn't that hard, right?
After hitting buy you will have the altcoin in your wallet under Funds / Deposit Withdrawals.
5. Wrapping up
I highly recommend using a Ledger Nano S to store your Crypto assets on a safety device.
Use this link to buy it directly from their website. Don't buy it from Amazon, it's mostly overpriced.
Invest responsibly, and remember, ceos3c is not responsible for any lost funds or errors on your side.
*Some of these links may be affiliate links, meaning if you click and purchase something,
I may receive a small commission at no additional cost to you. I only recommend companies and products I personally use,
and any commissions help to pay for content creation. Thanks!
* This article is no legal, financial or investment advice and any action taken is at the user's own discretion and
of their own responsibility. No loss or blame is accountable to the writer of this article. He is free from liability.