Alright, guys, you want it, here you have it: How to buy Bitcoin – The no bullshit guide.
Some of you requested a short and no BS guide to buying Bitcoin. I haven't looked into any other guide out there I just will put down what I know.
I did a fair amount of research myself in the topic in the past couple month and know how confusing it can be when you first look into it but put that aside, it isn't all that bad.
I will not tell you how the Blockchain works or what a Cryptocurrency is. I will tell you how to buy it because that's what you want.
With this method, you are able to buy and semi-safely store Bitcoin, Litecoin, and Ethereum. There is already a guide on how to create an Ethereum wallet on the website and on YouTube.
Let's get started.
1. Creating a Coinbase account
First things first. You need to get yourself a Coinbase account. If you are new to this, this is the safest and best way to get started.
Coinbase is an established platform and lets you even store your investments pretty safe.
If you use this link to register on Coinbase, you get FREE 10$ worth of Bitcoin! Use a STRONG password! Store it safely. Best is to use a software like KeePass.
This is an affiliate link, so if you register using this, you are helping me out a bit without any extra cost to you.
2. Security
The single most important part is 2 Factor Authentication.
It makes it necessary to use the authenticator code on your mobile phone for any kind of transaction. A pretty good layer of security.
Navigate to Settings / Security to enable it.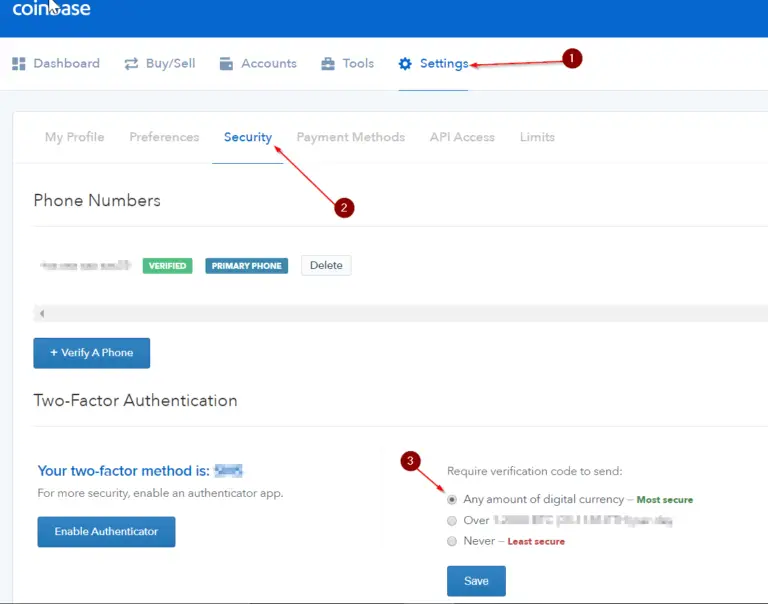 You can either use authentication via SMS or use Google Authenticator. The choice is yours.
Also, I would leave it for Any Amount of Digital Security. Its the most secure option.
3. Verifying your bank account
Before you can deposit money, you need to verify your banking account. That is usually done by Coinbase transferring a small amount of money to your account and you need to enter the code written in the reference later on in Coinbase.
This usually can take a couple of days. So plan ahead.
Also, Credit Card payments are possible and they also require verification. I do not know how that works because I didn't use it yet. I also read that Paypal might be possible in the US.
After it's verified, you can transfer money by clicking on Buy / Sell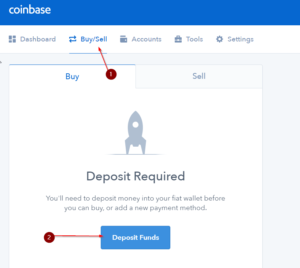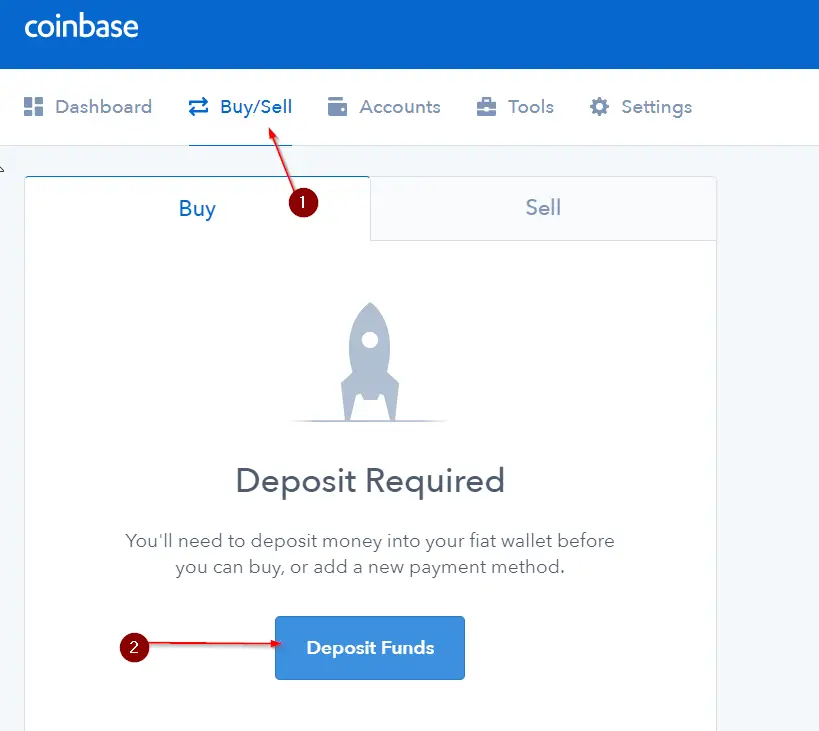 After you hit Deposit Funds, you will see all your wallets. Hit deposit again next to your Euro or USD wallet: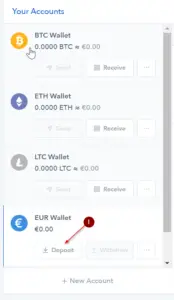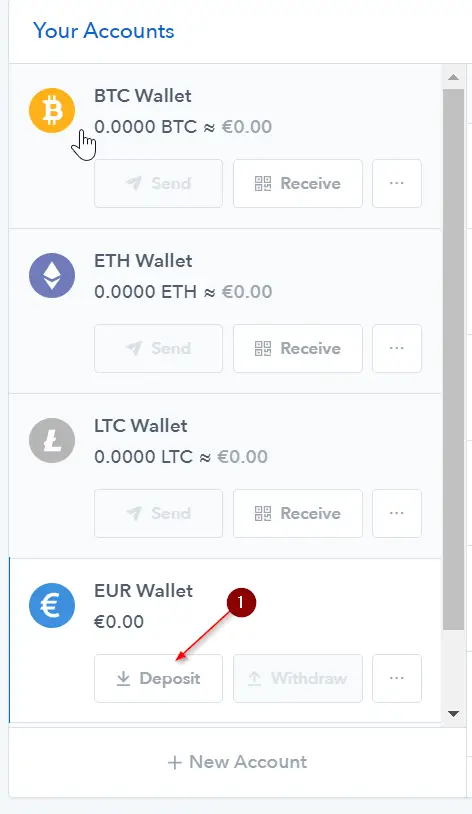 Note down your Reference Number! You need to put that into your transaction, otherwise, the money will not arrive at your account. This is basically your Account ID if you will, so Coinbase knows on which account to deposit the funds.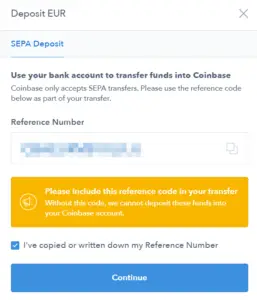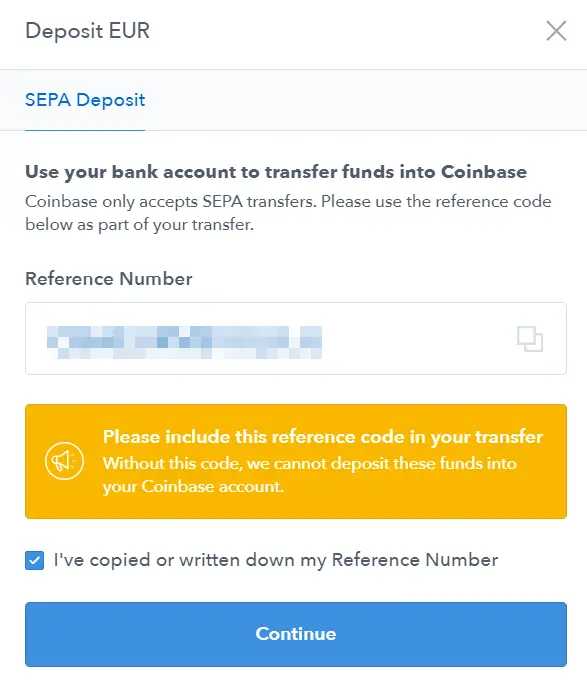 Once that is done, click on Continue and now enter the Amount you want to transfer, I think that doesn't really matter because you anyway need to transfer the funds from your bank itself.
Click on Continue after you're done.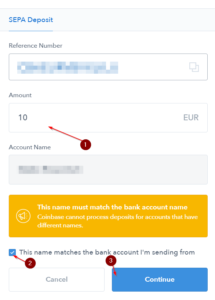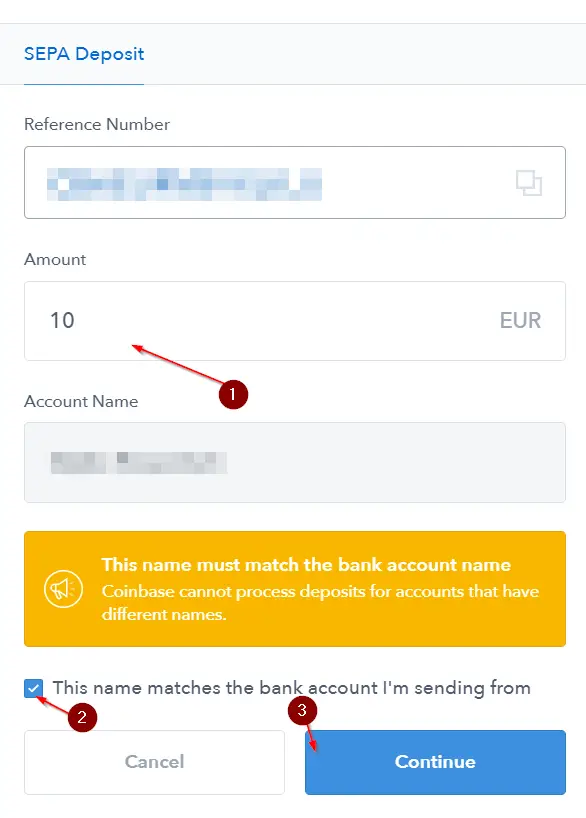 Finally, you get presented with the IBAN and banking details where you need to transfer the money to. Log in to your online banking and transfer the money. DONT FORGET YOUR REFERENCE CODE!
Now, for SEPA it usually takes 1-2 days and the money will show up on your account. You will get an Email notification soon as it arrives.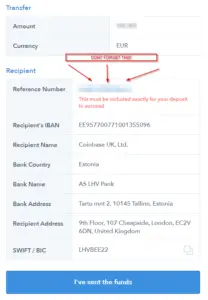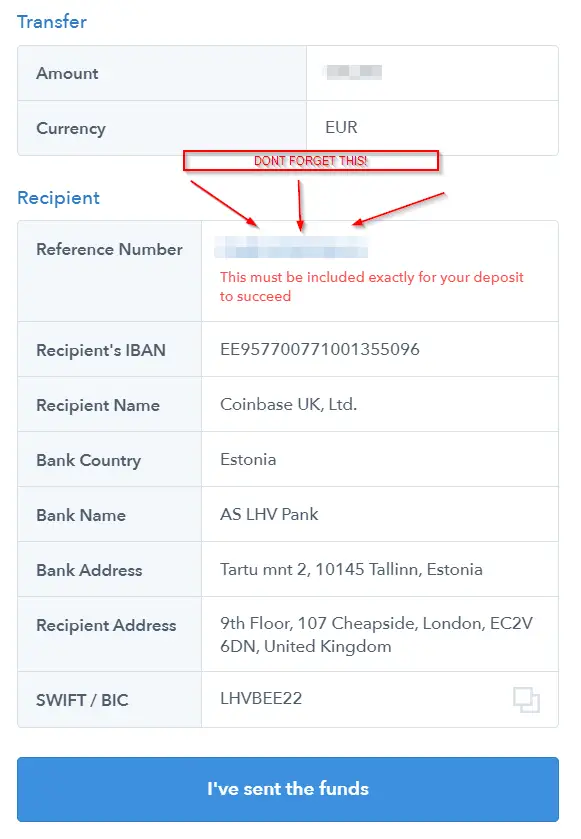 4. Buying a currency
After your banking account is verified and you transferred money to your Coinbase account, it's time to buy some coins.
You head to Buy / Sell again and you will see all your wallets. You can now buy Bitcoin, Ethereum or Litecoin.
Just click on either of them, enter the amount of money that you want to buy for and you see a summary of the cost on the right-hand side, including fees (talking about fees in the wrapping up section).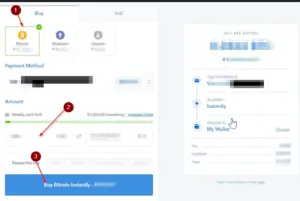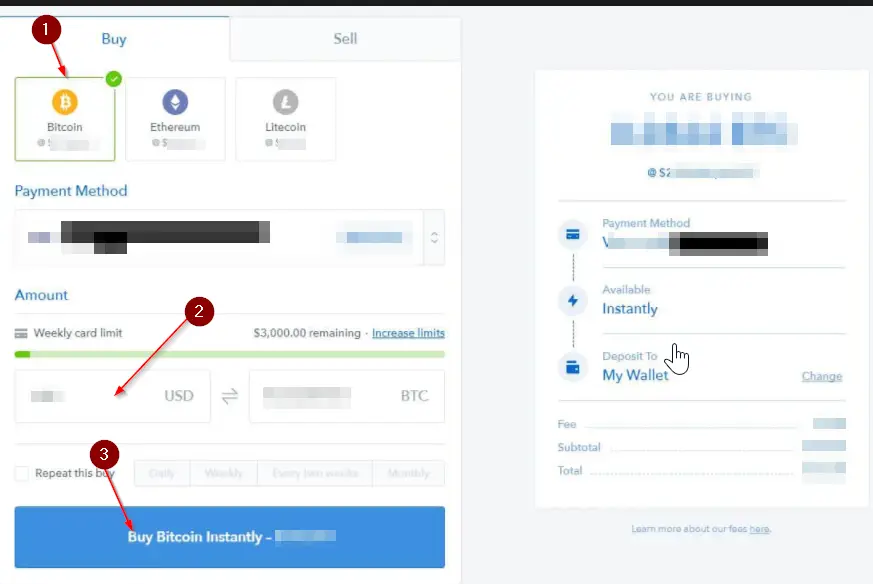 After you click on buy and enter your authenticator code, you have achieved Bitcoin. The Bitcoin is now stored in your Coinbase wallet. This is an online wallet and generally not recommended. We also talk about that in the wrapping up section.
This guide only covers buying Bitcoin as short as possible.
5. Wrapping up (read this!)
Alright, you now own your first own Bitcoin. Let me give you a couple tips on the way:
Generally speaking, if you invest more than a week's worth of salary, it is worth to buy a Ledger Nano S – This is a hardware wallet that allows you to store your cryptocurrencies offline – The most secure way to store them.
GDAX is a daughter firm of Coinbase and has lower fees. If you are completely new, use Coinbase and live with the fees for its convenience.
I am not responsible for any loss of money on your side if you did something wrong.
Be responsible for your investments, never invest money that you can't lose comfortably.
Alright, I think that concludes this guide.
I will not go in any length here, we want to keep it short an easy, without BS.
6. If you also want to buy Altcoins…
I got you covered. Now that you know how to get Ethereum and Bitcoin on Coinbase, you can also buy some Altcoins.
There are more specific guides for certain currencies in the Cryptocurrency category.
If you liked this guide and would like to read more about things like how to buy Altcoins, let me know in the comments below!